PBOC's Yi Says Fed Rate Hike Would Be Good for China Economy
Bloomberg News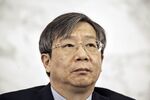 A Federal Reserve interest-rate increase would be good for China because it would signal demand is rising and the U.S. economy is improving, People's Bank of China Deputy Governor Yi Gang said at a briefing.
Playing down concerns of spillover effects from an increase, Yi said China has had plenty of time to prepare its monetary policy for a move. He spoke a day after Federal Reserve Chair Janet Yellen said she is fairly sure the economy will improve enough to warrant another interest-rate increase.
Yi spoke on the sidelines of the U.S.-China Strategic and Economic Dialogue, which concludes on Tuesday. U.S. Treasury Secretary Jacob Lew, who is in Beijing for the talks, urged China to improve monetary policy communication as it takes on a larger role in the global economy.
Officials can continuously improve monetary policy communication and make it more effective, Yi said. He said the PBOC and the Fed have good communication.
The PBOC said last month it had increased two-way flexibility of the exchange rate and noted the yuan remains basically stable. The currency fell for a second day on Tuesday, slipping to the lowest level since October 2014 against a trade-weighted basket.
Yi also said a Fed interest rate rise would lead to a stronger dollar, which would prompt capital to flow back to the U.S. and cause weakness in emerging market currencies.
"Many people are concerned about capital flows," he said. "In the future, the question is what will be the pace and the intensity of Fed rate hikes."
— With assistance by Yinan Zhao, and Kevin Hamlin
Before it's here, it's on the Bloomberg Terminal.
LEARN MORE