Istanbul Car Bomb Targeting Police Kills 11 and Wounds Dozens
by
Blast was near riot police bus close to historic old city

Terrorist groups including PKK, IS targeted Istanbul this year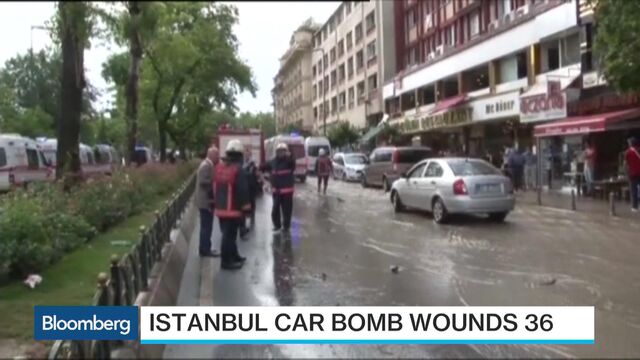 A car bomb targeting a police vehicle in Istanbul killed 11 people and wounded 36, creating new security anxieties in a country on edge over resurgent Kurdish militant violence and Islamic State attacks.
There was no immediate claim of responsibility for the blast, which occurred in the Beyazit area, not far from Istanbul University and sites in the historic old city including the Grand Bazaar. Seven police officers were among the dead, according to Istanbul Governor Vasip Sahin.
Both the separatist Kurdistan Workers' Party, or PKK, and Islamic State have carried out deadly attacks in Istanbul and Turkey's capital, Ankara, since October. Tuesday's attack comes days after Turkey announced an end to military operations in two southeastern cities where around a thousand PKK members were killed in recent months. A senior PKK commander pledged last week to spread violence to cities across the country.
Classes were canceled for the day at Istanbul University, where the blast smashed the windows of a dormitory as well as those of nearby hotels, Irem Zulam, a student at the university who witnessed the attack, told AHaber TV.
The lira weakened after the blast before rebounding. The currency was trading 0.3 percent higher at 2.8938 per dollar at 11:40 a.m. in Istanbul.
Tourist Threat
The terror threat has fueled a massive drop in travel to Turkey, previously the world's sixth-most popular holiday destination. Foreign tourist arrivals fell for a record ninth month in April, declining 28 percent year-on-year, which was the biggest drop on record, according to data spanning a decade.
The PKK, which has been fighting for autonomy in Turkey's southeast since 1984 and is designated a terrorist group by the U.S., EU and NATO, has staged several bombings targeting police and military in Istanbul and Ankara this year. Murat Karayilan, a senior PKK commander, threatened to spread urban warfare across Turkey, the pro-Kurdish Firat news agency said on June 1.
The armed group's camps in northern Iraq have come under frequent attacks by Turkish air forces, most recently on Monday, the Turkish military said.
President Recep Tayyip Erdogan is expected to hold a top-level security summit at 2 p.m. local time at his office in Ankara, a meeting that had been scheduled before the blast took place.
Before it's here, it's on the Bloomberg Terminal.
LEARN MORE