Corporate Debt Investors Might Want to Step Aside for the ECB
Enter Draghi, exit bond investors.
by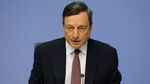 If you're holding European corporate bonds in your portfolio, consider this a warning.
If history is any guide, it may be best to get out of the way of European Central Bank President Mario Draghi's bond-buying juggernaut, which will make its next stop in the 916 billion-euro ($1 trillion) market for company debt securities beginning tomorrow.
In anticipation of the ECB buying covered bonds — the first stage of a quantitative easing adventure that began back in October 2014 — credit spreads on the debt tightened to record lows. (All things being equal, when spreads narrow the price of the bond goes up, meaning a bondholder's investment is more valuable). They subsequently widened:

The same thing happened when the ECB bought asset-backed securities, known as ABS. Investors that loaded up on the paper in anticipation of making a quick euro by selling it to the central bank were subsequently caught off guard by the slow pace of ECB purchases:

And in the corporate bond market, the extra yield investors demand to hold company debt relative to safer government bonds has fallen since March when the ECB first announced its corporate purchase program. The question is — will it stay there?

Before it's here, it's on the Bloomberg Terminal.
LEARN MORE