business
Brexit Study Finds Close Sunderland Result Suggests 'Remain' Win
By
Northeast English city is first big area to declare after vote

Difficult for 'Leave' to win if it loses Sunderland: academic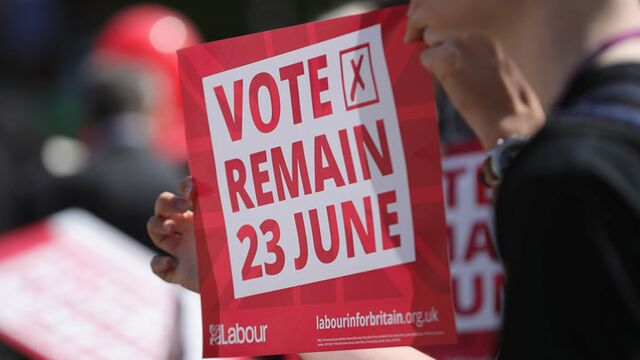 A close result in the northeastern English city of Sunderland would point to a victory for Prime Minister David Cameron's campaign to keep Britain in the European Union, according to the findings of a study by a University of East Anglia academic.
Chris Hanretty studied local polling data and recent opinion surveys to identify a 6 percentage-point lead for the "Leave" campaign in Sunderland, which is forecast to be the first, more populous area to announce a result following the June 23 referendum.
"If the result in Sunderland is very close, then 'Remain' has probably won," Hanretty said in a blog post. "It's not impossible that 'Leave' will win whilst losing in Sunderland. But it would be difficult."
With pollsters uncertain of the accuracy of their findings, politicians, businesses and investors are searching for clues about the outcome of the most significant vote facing the U.K. in a generation. Bookmakers too are sending conflicting signals, with more than 70 percent of all bets placed on "Leave" but 73 percent of the money wagered on a vote to "Remain," according to William Hill Plc.
Hanretty, who warns that many assumptions are involved in calculating his projections, sees "Leave" 15 points ahead in Swindon and 10 points in front in Oldham among the other early results. "Remain" is 48 points ahead in the City of London and has a 33.5 point-lead in Wandsworth, according to his findings.
In his blog post, Hanretty said there will be a "good idea of the result" by the time counting ends in Lancaster, a swing area, estimated at 3:30 am on June 24.
Before it's here, it's on the Bloomberg Terminal.
LEARN MORE