Brazil Prosecutor Seeks Arrest of Temer's Party Leaders
by and
Senate president would be replaced by Rousseff ally in Senate

Party leaders deny interference in Carwash corruption probe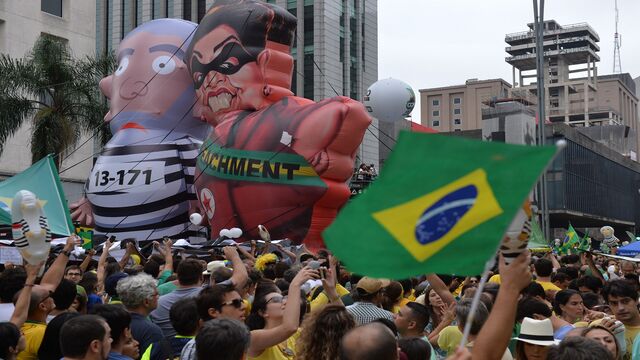 Brazil's Prosecutor General has requested the arrest of Senate Chief Renan Calheiros and other ruling party leaders over an alleged corruption cover-up, raising questions over the future of Acting President Michel Temer's administration, according to local media.
QuickTake Brazil's Ups and Downs
In a request filed with the Supreme Court at least a week ago, Prosecutor Rodrigo Janot alleged that Calheiros, former President Jose Sarney, and Senator Romero Juca sought to obstruct the country's largest-ever corruption probe known as Carwash, Folha de S. Paulo and O Globo newspapers reported on Tuesday. Janot is seeking arrest warrants for the politicians and also for suspended lower house chief Eduardo Cunha, O Globo reported. All four are members of Temer's PMDB party.
The allegations are the latest in a series of setbacks for Temer since he took office last month. Two of his cabinet members have had to step down and others have been implicated in the same corruption scandal that has rattled Brazil's political and corporate establishment for over two years. 
Temer is concerned that a possible change in the Senate command could impact voting, including a final decision on the impeachment of suspended president Dilma Roussseff, according to a government official briefed on the matter. If Calheiros is removed from office, a member of Rousseff's party would temporarily take over his job. Temer's allies are also concerned about evidence prosecutors may have against cabinet members, said the official who asked not to be named because the information isn't public.
Analysts with MCM Consultores Associados also said Calheiros's possible removal from office could prove to be an obstacle to the approval of Temer's economic measures. They don't expect it to delay Rousseff's impeachment, however, as her trial will be presided over by Supreme Court President Ricardo Lewandowski, with a timeline already determined by the top court.
'Disproportional, Abusive'
Antonio Carlos de Almeida Castro, the lawyer for Juca and Sarney, told Bloomberg that their arrest would be unjustified and that neither of them tried to interfere in the corruption probe. In a statement, Calheiros said he didn't do anything that could be interpreted as an attempt at obstructing justice and that such a measure would be "unreasonable, disproportional and abusive." Cunha said the reports are an attempt at embarrassing lawmakers who defend his acquittal in an ethics inquiry against him.
Supreme Court Justice Teori Zavascki will make an initial decision on the case, O Globo newspaper reported. The court had taken several months to rule on a request that removed Cunha from office. The Supreme Court's press office didn't comment on the reports but said that, in theory, Zavascki could rule alone on an arrest warrant.
The Brazilian real weakened as much as 0.7 percent earlier in the session as investors worried about political uncertainty. It later rallied about 1 percent on comments by Ilan Goldfajn, Temer's nominee to head the central bank.
Before it's here, it's on the Bloomberg Terminal.
LEARN MORE