Morgan Stanley Sees Babies and Billionaires as the Key to Emerging Markets
By and
Morgan Stanley's Ruchir Sharma tells why nations rise and fall

Czech Republic is in top, China lowest among emerging nations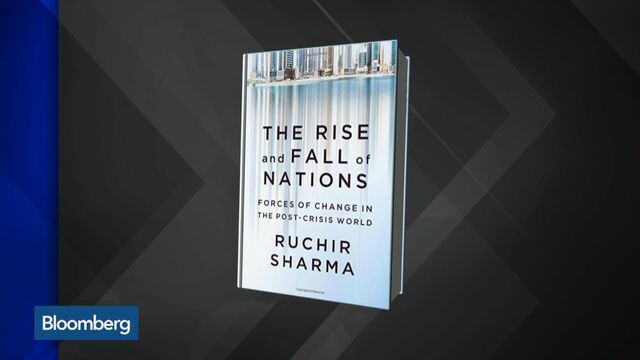 Have more babies. Control borrowing. Rear self-made billionaires. Keep your currency cheap.
That's the advice of Ruchir Sharma, head of emerging markets at Morgan Stanley Investment Management, for nations seeking to rise -- or at least avoid a fall.

A member of the Bloomberg Markets 50 Most Influential list last year, he outlines the ten guiding principles behind his five-year investing strategy. Sharma manages a dozen or so developing-nation funds; the biggest three, with assets of about $3 billion, each have returned 4.7 percent or more this year, outperforming their benchmarks, according to data compiled by Bloomberg.
In a ranking based on his 10 rules, China sits at the bottom among major emerging nations. The Czech Republic and Poland are on top. Here are some highlights.
The Baby Rule
A shrinking work force has been one of the biggest causes of the anemic global economic growth since the 2007-2008 financial crisis, Sharma writes in his new book, "The Rise and Fall of Nations." A single percentage point decline in labor growth typically shaves economic expansion by a like amount, he says.

Since 1960, only three countries -- Portugal, Georgia and Belarus -- have been able to grow 6 percent or more while their labor supply contracted. That means China, whose working-age population decreased last year, faces a hurdle meeting its 6.5 percent annual growth target for the next five years.
Nigeria, Kenya, Egypt and the Philippines have some of the world's fastest growing working populations, which bodes well for them.
The 40 Percent Debt Rule
The magic number is 40. Sharma's research identifies 30 countries that saw their economic growth rates cut in half within five years after private credit expanded in the prior half decade to 40 percent or more of the gross domestic product.
China is at risk on this score. Since 2008 the country's corporate and household debt has nearly doubled, outpacing the credit expansion in Thailand that preceded the 1997 Asian financial crisis, the largest borrowing binge in emerging-market history, Sharma said in an interview in his New York office.

"Once you take the kiss of the debt, it's very difficult to unlock it," Sharma said. While China has the tools and resources to avoid a financial crisis, its "growth trajectory is like a ping-pong ball bouncing down the staircase."
The Good vs. Bad Billionaires Rule
Corruption scandals that erupted six years ago in India inspired Sharma to start examining nations' wealthy elites. He divided the net worth of each country's billionaires from the Forbes list of the world's richest people by that country's GDP. The rubric serves as a loose gauge of the economies' health and equality, Sharma writes in a chapter titled "Good Billionaires, Bad Billionaires."
Net Worth of Emerging Economies' Billionaires as Percent of GDP:
| | |
| --- | --- |
| Country | Wealth/GDP 2014 (%) |
| Poland | 2% |
| South Korea  | 5% |
| China | 5% |
| Turkey | 6% |
| Indonesia | 7% |
| Brazil | 8% |
| Mexico | 11% |
| India | 14% |
| Taiwan | 16% |
| Russia | 16% |
| Emerging-Markets Average | 9% |
Source: Forbes, Haver Analytics, Morgan Stanley Investment Management; as of 2015 Q1
Sharma sees red flags when billionaires own more than 5 percent of a country's GDP. An evolving cast of self-made tycoons, such as founders of billion-dollar tech unicorns, is better than an inbred cast of corrupt ones, especially those reliant on inherited wealth or politically connected industries, he adds.
The Cheap-Is-Good Rule
In the early 2010s, Sharma heard tales of Brazilians flying to Manhattan and hiring shipping containers as their shopping bags. The strength of the Brazilian real made them feel rich. That period marked the peak of the country's economic boom. The lesson: An overvalued currency tends to tip an economy off balance.
By this rule, South Africa and Mexico look competitive because their currencies have depreciated in recent years. On the other end of the spectrum, China's inflation-adjusted exchange rate for the yuan has increased 49 percent since 2006, more than any other emerging-market currency.