Australia Holds Rate, Avoids Policy Guidance as Housing Revives
by
Data last week showed economy grew at fastest pace since 2012

Traders pare bets to 48% for an August cut from 64% Monday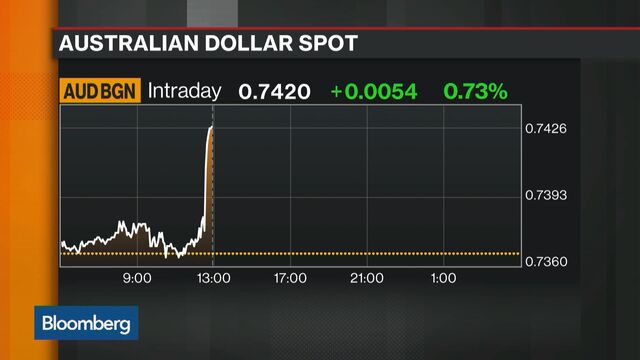 Australia's central bank stood pat on interest rates as it tries to prevent house prices reigniting in an economy growing near its 30-year average while grappling with weak inflation.
The Reserve Bank of Australia, which cut in May, avoided forward guidance and left the benchmark at a record-low 1.75 percent Tuesday, as forecast by all but one of 26 economists surveyed. Its decision came less than a week after data showed an annual expansion of 3.1 percent in the first quarter and as April unemployment held at 5.7 percent, below its two-decade average.
"The major issues for the RBA are balancing the competing interests of firm GDP results against very low inflation and wages," said Michael Workman, a senior economist at Commonwealth Bank of Australia. "The RBA does not see a significant downside risk to the activity data and upside to the unemployment rate in the short term. The next inflation update in late July means that, in our view, the August board meeting is the likely date for a rate cut."
Australia -- which has gone a generation without recession -- is midway through a campaign for a July 2 election in which the government is trying to woo voters without over-spending as it confronts a persistently wide budget deficit. The central bank has relied on easy policy and a weaker currency to assist the economy's transition from a mining investment boom to growth driven by services like tourism and education.

One reason policy makers may have hesitated to reinstate an easing bias Tuesday is a resurgent housing market. Prices jumped 3.1 percent in Sydney in May -- and the city's auction clearance rate climbed to a two-month high of 76.7 percent at the weekend -- while Melbourne prices advanced 1.6 percent.
Governor Glenn Stevens's failure to provide policy guidance Tuesday prompted a spike in the currency as traders speculated the central bank had moved to neutral. The local dollar climbed 1 percent after the decision and traded at 74.36 U.S. cents at 5:58 p.m. in Sydney. Three-year government bond yields climbed 8 basis points to 1.60 percent, heading for the steepest increase since Dec. 10. Ten-year yields rose 4 basis points to 2.19 percent.
"It was a little bit surprising there wasn't an explicit easing bias," said Sally Auld, head of fixed-income and currency strategy for Australia at JPMorgan Chase & Co. "I think they'll pay the price for that in the wake of recent developments in the U.S.," she said, referring to a weak American jobs report and subsequent rebound in the Aussie.
Low Inflation
The RBA cut rates last month in response to first-quarter data showing the weakest core consumer-price reading on record. Stevens said Tuesday that inflation was "quite low" and expected to stay subdued for "some time".
"The board judged that holding the stance of policy unchanged at this meeting would be consistent with sustainable growth in the economy and inflation returning to target over time," Stevens said. "Recent data suggest overall growth is continuing, despite a very large decline in business investment. Other areas of domestic demand, as well as exports, have been expanding at a pace at or above trend."
The odds of the key rate dropping to 1.5 percent before August fell to 48 percent from 64 percent on Monday, based on interbank cash-rate futures.

The currency has been volatile this year. It bottomed near 68 U.S. cents in January -- a level that would've comforted the RBA -- before rebounding to 78 cents in April as Europe and Japan stepped on the policy gas. It fell again after last month's rate cut, before climbing to 73 cents following Friday's weak U.S. jobs report.
"An appreciating exchange rate could complicate" the economy's adjustment to the end of the mining boom, Stevens said in Tuesday's statement. "Dwelling prices have begun to rise again recently. But considerable supply of apartments is scheduled to come on stream over the next couple of years, particularly in the eastern capital cities."
Before it's here, it's on the Bloomberg Terminal.
LEARN MORE