Drinks
The Perfect Summer Red Wine
Gamay is an American rosé alternative on the rise.
By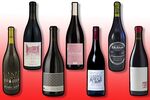 Ruby-tinged and light-bodied, American gamay noir is a red that's as refreshing as most rosés but more broadly satisfying and lively. Its fruity character and high acidity make it great for pairing with grilled meats and veggies. And like rosé, it benefits from a slight chill—about half an hour in the fridge or ice bucket.
The gamay grape (officially Gamay Noir à Jus Blanc) is native to Beaujolais, the region just south of Burgundy, and can make reds as nuanced as pinot noir—serious, structured vintages, particularly the region's northern crus. But reared in the States from relatively young vines, it is jovial and fresh, an oddity fringe grape grown in just a few regions for ardent, venturesome winemakers.
"The best parallel is gamay from the Willamette Valley and from the Loire Valley," said Tim Gagnon of Manhattan's Chambers Street Wines, "due to the regions' analogous weather, geographic, and soil conditions." The grape is also cultivated in New York State, the Niagara region of Ontario, and in California's Sierra Foothills and Santa Barbara County. Here are seven bottles to try.
Bow & Arrow Gamay Noir 2014

Inspired by the Loire wines of Didier Barrouillet at Clos Roche Blanche, Scott and Dana Frank of Bow & Arrow make this gamay noir in Northeast Portland from fruit grown in Oregon's Willamette Valley. The wine is juicy and bright, with black cherry notes and a sprightliness resulting from partial carbonic maceration, a traditional Beaujolais winemaking technique championed by Jules Chauvet (the so-called "father" of the French natural wine movement) in which whole-cluster grapes are fermented amid carbon dioxide before crushing. $19
Lo-Fi Wines Gamay/Pinot Noir 2015

Lo-Fi is a project of Mike Roth and Craig Winchester, two East Coast college pals who make deliciously straightforward wines in Santa Barbara County, Calif. This 2015 bottle is a 90/10 blend of carbonic maceration gamay and whole cluster pinot noir from the Santa Maria Valley. The wine is bright and fruity, with great acidity and a tinge of bitterness from the carbonic fermentation. $22
Division-Villages Gamay Noir "Les Petits Fers" 2015

Kate Norris and Tom Monroe moved from France to Portland in 2010 and founded Division, one of Portland's numerous urban wineries. The couple sources fruit from several Willamette Valley vineyards for a range of gamay wines, including a 2014 "Cru" and a brand new rosé from the 2015 harvest ("L'Avoiron"). Also from the 2015 vintage is Les Petits Fers, a crushable, energetic, and fun wine bursting with strawberry and cherry flavors. Overall, it's a touch more robust and savory than the Beajolais-Villages wines referred to in its name, which are often lean and vegetal. $22
Edmunds St. John Bone-Jolly Gamay Noir 2014

If there's one guy responsible for bringing gamay noir to California, it's Steve Edmunds. After requesting and getting two plots of the variety planted in El Dorado County (just east of Sacramento) in the early aughts, Edmunds began making his Bone-Jolly Gamay Noir, based on the northern Beaujolais wines he loved. The 2014 vintage is pale red in color, with aromas of fresh strawberry, black licorice, and forest floor. The wine has a spritzy acidity and a prolonged, textured finish. Edmunds also make a much-loved rosé version of Bone-Jolly (the current vintage is 2015) from gamay grown at Witters Vineyard, also in El Dorado County. $23
RPM Gamay Noir 2014

This wine is a collaboration among three superstars of the California wine scene—Nathan Roberts and Duncan Meyers of Sonoma's Arnot-Roberts and sommelier and wine consultant Raj Parrr of the Michael Mina group and Domaine de la Côte. Inspired by such cru Beajolais as Fleurie and Morgon, the trio created the RPM label exclusively to showcase the potential of California-grown gamay noir, which they source from Steve Edmunds's Sierra Foothills plots. The 2014 vintage is the fourth and presents a rich, deep expression of gamay, with notes of dried cherries, grassy herbs, and light perfume. $36
Brick House Vineyards Gamay Noir 2014

Doug Tunnell released his first vintage of gamay noir way back in 1995 (from vines planted in 1992), and he has now expanded his gamay plots in his Willamette Valley vineyards to more than five acres. Tunnell ferments the organic, biodynamic grapes in neutral oak barrels with essentially no intervention—no additives, no chemicals, no temperature-controlled fermentation. The resulting 2014 vintage is bright, floral, and easy-drinking, with spicy but subtle notes of white pepper and sassafras. $26
Broc Cellars Valdigiué 2014

For decades, California producers made wine from a grape they called "Napa Gamay," which was believed to be identical to the gamay of Beaujolais. But in 1980, following genetic testing, the grape was discovered to be a completely different red variety called Valdigiué, from the Languedoc-Roussillon region of southern France. Chris Brockway, proprietor of Broc Cellars in Berkeley, stays true to the spirit of Beaujolais, however, with this interpretation of the historic "Napa Gamay." His 2014 Valdigiué undergoes 100 percent carbonic-maceration fermentation, resulting in a fresh, quaffable red that's perfect when chilled and served with a backyard summer barbecue. (Look soon for a 2015 vintage of "real" gamay noir from Brockway.) $24
Before it's here, it's on the Bloomberg Terminal.
LEARN MORE