Yuan Retreats to Lowest Since 2014 Versus Peers on Weak Fixing
by
Chinese authorities still have weakening bias: Commerzbank

Yuan pares Friday's gains spurred by weak U.S. jobs data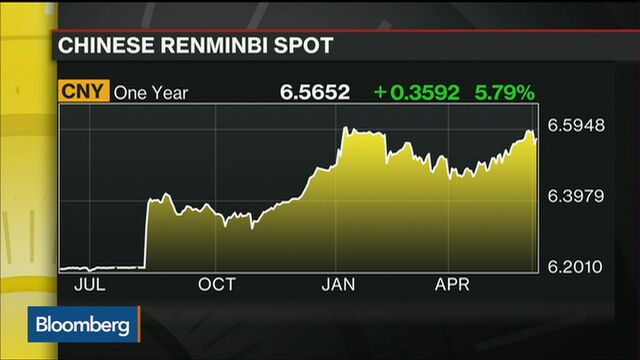 The yuan fell to the lowest level since November 2014 after the central bank strengthened the fixing by less than expected following a slump in the dollar.
The Chinese currency dropped 0.6 percent against a trade-weighted basket that includes the euro and the yen. The People's Bank of China set the reference rate 0.5 percent stronger, compared with a 1.5 percent drop in the Bloomberg Dollar Spot Index on Friday. The yuan weakened 0.2 percent to 6.5651 versus the greenback at 5:37 p.m. local time, after rising 0.5 percent Friday.
"The Chinese authorities still have a weakening bias in the currency," said Zhou Hao, a Singapore-based economist at Commerzbank AG, who had predicted the fixing would be 1 percent stronger.

Goldman Sachs Group Inc. warned last week that the yuan weakness may trigger capital outflows and increase bets on a one-off devaluation. Monday's losses came even as a gauge of the greenback's strength slumped the most in four months on Friday after data showed American employers took on the fewest workers in almost six years. The yuan will likely be a subject at bilateral talks with the U.S. that begin Monday in Beijing, with U.S. Treasury Secretary Jacob J. Lew saying on Sunday Chinese officials need to improve monetary policy communication.
Fed Predictions
The Chinese currency had increasingly tracked the dollar against other peers this year after weakness in January triggered a global equity selloff amid concern the government would engineer the second devaluation since August to bolster growth. The probability of the Federal Reserve increasing benchmark rates by July has fallen to 27 percent from more than 50 percent a week ago.
The market gyrations that followed the PBOC's decision in August to devalue the yuan reflected "something that was confusing and not well communicated, and it gave rise to fears that China's economy was in a much weaker place than it actually appears to be or was perceived by policy makers to be," Lew said in an interview with Bloomberg Television.
The yuan last week traded within 0.1 percent of a five-year low reached in January, after declining 1.5 percent in May, the most since August's rout. The offshore yuan dropped 0.4 percent Monday after rising 0.7 percent on Friday.
Chinese government bonds advanced for the first time in four days, pushing the 10-year yield down two basis points to 3.01 percent, ChinaBond data show.
Before it's here, it's on the Bloomberg Terminal.
LEARN MORE