Yellen Speech May Offer Little Clarity After Vagueness Paid Off
by and
Markets are pricing out a summer Fed increase after payrolls

Economists see Yellen sticking to non-commital line on hike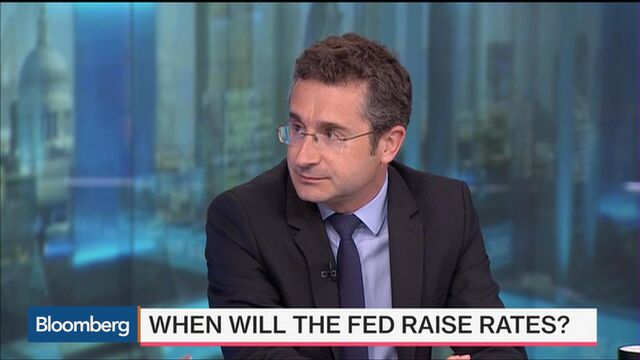 Being opaque has been paying off for Janet Yellen. That's one reason not to expect razor-sharp clarity as she speaks in Philadelphia later on Monday.
QuickTake Why Central Banks Drop Hints
During a May 27 appearance, the Federal Reserve Chair neither signaled nor ruled out a June rate move. As a result, she won't have to backtrack after a comprehensively dismal payrolls report last week led markets to doubt whether the Fed will raise rates this year, let alone this month.
Yellen may need to update her tone slightly in response to renewed labor market uncertainty, perhaps softening or further qualifying her May 27 statement that an increase will probably be appropriate "in coming months." Still, economists and strategists say it's unlikely that she'll give a more definitive timeline on when to expect the second hike in a decade.
"We're going to get a vague promise of future rate hikes that does not specify a date," said Guy Lebas, chief fixed-income strategist at Janney Montgomery Scott LLC in Philadelphia, who expects a September increase. "You can't claim data dependence, have the most recent data be what it was, and still take upward rate action."
In the weeks leading up to the employment report Friday, several Fed officials had signaled that they were in favor of a rate increase in coming months. Markets were increasingly pricing in a hike at either the Fed's June 14-15 or July 26-27 meeting as a result, but that reversed following the latest jobs data.

The Labor Department report showed that America added just 38,000 jobs in May, the worst reading since 2010. Unemployment declined to 4.7 percent as people left the work force and labor force participation declined.
"The case for July is no longer as clear," economists Michelle Girard and Kevin Cummins at RBS Securities Inc. wrote following the jobs data. They noted they have yet to finalize their rate call, which is currently for September but had been leaning toward July before the jobs numbers. "We will wait to see what Yellen says Monday."
Yellen is the last scheduled Fed official to speak publicly before the quiet period Fed officials typically observe the week before a Federal Open Market Committee meeting. She'll give remarks at the World Affairs Council in Philadelphia at 12:30 p.m. local time, then will attend a roundtable discussion at the West Philadelphia Skills Initiative starting at 2 p.m.
The appearances give her a chance to talk July back onto the table by signaling that the June data may have been a blip. Alternatively, she could push expectations back further by emphasizing the negative developments.
She'll likely do neither.
"The last thing Yellen wants to do is talk herself into a corner," said Gennadiy Goldberg, an interest-rate strategist at TD Securities LLC in New York, who expects Yellen to stick to her call for an increase in "coming months" while emphasizing that it depends on data holding up. "That was the beauty of Yellen's recent remarks -- it was enough to put the markets on notice, without painting herself into a corner if the data should sour."
Girard and Cummins at RBS expect Yellen to repeat her prior comments -- hardly a precise signal. "She will stick to the script that a rate hike 'in coming months' would be appropriate if things unfold as the Fed expects, which could mean June, July or September," they wrote.
Before it's here, it's on the Bloomberg Terminal.
LEARN MORE