Yellen Sees Rates Rising Gradually But Avoids Precise Timing
by and
Positives outweigh negatives in U.S. economy, Fed chair says

Latest jobs report 'disappointing'; other labor data better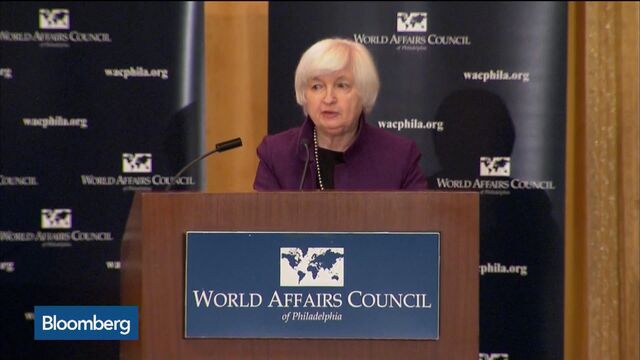 Federal Reserve Chair Janet Yellen said the U.S. economy was making progress but was silent on the timing of another interest-rate increase, an omission viewed as a signal that a June move was off the table.
"I continue to think that the federal funds rate will probably need to rise gradually over time to ensure price stability and maximum sustainable employment in the longer run," Yellen said Monday during a speech in Philadelphia.
Her comments were less specific than in her previous remarks in describing when she thought the Fed should raise rates again. On May 27 at Harvard University, she said an increase would likely be appropriate in "coming months," a phrase she didn't repeat on Monday. Since then, the Labor Department reported U.S. employers in May added the fewest number of new jobs in almost six years, causing expectations for a rate increase to plunge.
"She did not address the timing of the Fed's next gradual move, which suggests to us that she is in no hurry," said Chris Rupkey, chief financial economist at Bank of Tokyo-Mitsubishi UFJ Ltd, arguing that her comments on the payroll report "largely rules out a move in rates next week. July is not a strong bet either."
Investor Bets
Investors reduced bets on a move in July to around 22 percent from 27 percent on Friday and 53 percent at the end of May, according to pricing in federal funds futures contracts.
The employment numbers were "disappointing," Yellen said, while also pointing to one of the few encouraging elements of the report -- the increase in average hourly earnings.
The dollar was little changed while U.S. stocks rose and Treasury yields edged lower as Yellen discussed the economy in the last scheduled public comments from a policy maker before Fed officials enter their traditional self-imposed quiet period heading into the June 14-15 meeting of the Federal Open Market Committee.
"Yellen's speech is clearly aimed at calming nerves, acknowledging the weakness of the May payroll report but building a strong case for believing it will prove temporary," Ian Shepherdson, chief economist at Pantheon Macroeconomics Ltd., wrote in a note to clients.
'Concerning' Report
Yellen said the "concerning" May payrolls report was a reason to keep close eye on the labor force, but cautioned against making any meaningful conclusions from the report.
"One should never attach too much significance to any single monthly report," she said. "If the May labor report was an aberration or reflects a temporary slowdown resulting from the weakness in economic activity at the start of the year, then job growth should pick up and support further gains in income."
The Fed chair said she is watching "four areas of uncertainty" in the economic outlook, including weak investment trends and last week's employment report, which raise questions over the U.S. economy's resilience in a time of "fairly considerable global bumpiness."
Global risks are also a concern, Yellen said, citing China's growth rate and the U.K. referendum this month on membership in the European Union. There is uncertainty over whether rates of U.S. productivity, or output per hour, will pick up, and over how quickly inflation will move back to the central bank's 2 percent target, she said.
After her speech, Yellen met in a roundtable with training participants and graduates at the West Philadelphia Skills Initiative, a program that connects local residents with job opportunities in the area. Philadelphia Fed President Patrick Harker also attended the meeting, where program participants explained their experiences and challenges in finding work.
Yellen used the opportunity to make it clear that she recognizes that slack still exists in the labor market for some groups, noting that at the Fed, "we want to do our very best to create an economy where people can find jobs."
Before it's here, it's on the Bloomberg Terminal.
LEARN MORE