Wanda Cinema Surges by 10% Limit as Stock Resumes Trading
by
Wanda Cinema is largest entertainment company in Asia

Stock resumes trading after being halted in February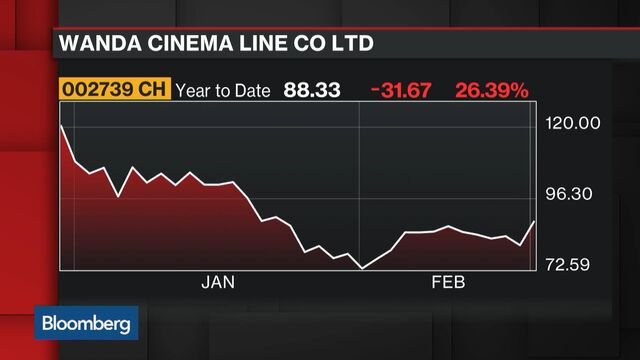 Billionaire Wang Jianlin's Wanda Cinema Line Co., whose shares have been halted since late February, surged by the 10 percent daily limit after it resumed trading on Monday as the Chinese tycoon seeks to inject Legendary Entertainment and other film-related businesses into the company.
The stock climbed to 88.33 yuan in Shenzhen, compared with its previous close of 80.30 yuan on Feb. 23. That gives the company a market value of 103.7 billion yuan ($16 billion), the highest among entertainment media companies in Asia, and some analysts expect further gains.
"Wanda Cinema could be worth $20 billion," said Eric Qiu, an analyst of CCB International, Securities Ltd. in Hong Kong. He has a target price of 98 yuan, without taking into account the asset injection.
Regulator Clearance
While the $5.7 billion deal still hasn't cleared Chinese regulators and is subject to shareholders' approval, the reorganization is part of Wang's ambitions to build a business empire with a market value of $200 billion by 2020. The Chinese property-to-entertainment mogul is also seeking to relocate his Hong Kong-listed developer unit to the mainland in search of higher valuations there.
Wanda Cinema, which had been halted from trading pending the reorganization, said last month it will buy film-making assets from the parent group for 37.2 billion yuan. Besides the asset injection, Wanda Cinema also plans to raise as much as 8 billion yuan via a private placement to fund future investments.
Asked by the Shenzhen stock exchange to explain details and rationale of the purchase, Wanda Cinema said it's buying the assets at 22 times estimated earnings, which is below the multiple Comcast Corp. is offering to buy DreamWorks Animation SKG Inc.
In addition, Wanda Cinema said it expects synergies from the merger to help the injected businesses generate profits of at least 5.1 billion yuan in three-year period till 2018 after posting losses of 4 billion yuan last year.
Not all investors may be cheering the plan as there are some concerns about the deal resulting in diversification away from the more attractive cinema operations, said Richard Huang, analyst at Nomura Holdings Inc.
Wang, who vies with Alibaba Group Holding Ltd. Chairman Jack Ma for the top slot among Asia's richest people on the Bloomberg Billionaires Index, has been busy deal-making this year. He is also seeking to privatize Wanda Commercial Properties Co. for HK$34.5 billion ($4.4 billion) to relist the company in mainland China at a higher valuation.
Before it's here, it's on the Bloomberg Terminal.
LEARN MORE