U.S. Oil Deficit Hits 17-Year Low as Prices Dip and Shale Flows
by
Petroleum import-export gap fell to $3.13 billion in April

Deficit shrinks despite fall in U.S. shale production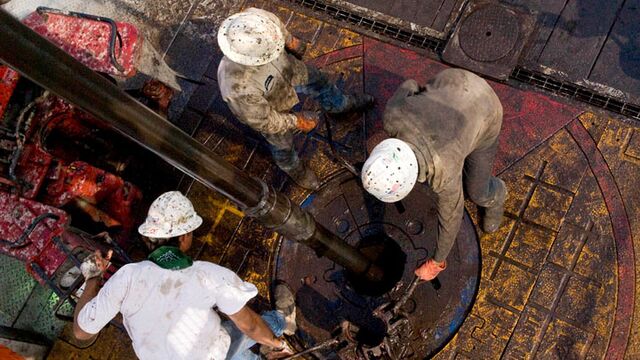 Last week's tepid jobs report may have dominated financial headlines in the U.S., but the oil market quietly had some better news for the American economy.
The U.S. petroleum trade deficit, the gap between the value of imports and exports, shrank to a seasonally adjusted $3.13 billion in April, the Census Bureau said on June 3. That left the shortfall at its smallest since 1999.

Much of that reduction can be traced to falling oil prices: Although the U.S. is actually importing slightly more oil by volume than it was at this time last year, it's coming in at lower prices because the global benchmark has fallen more than 50 percent from its June 2014 peak.
But part of that shrinking deficit can also be traced to the U.S. shale boom, even if production has started to ease lower this year. All that cheap American crude and natural gas has helped U.S. refiners ramp up exports of gasoline and other refined products, cutting into the deficit and turning the U.S. into the world's biggest fuel exporter.
"The shale revolution has definitely had an impact," said Ken Medlock, senior director at Rice University's Center for Energy Studies in Houston. "There are still things that tilt the scale in favor of U.S. refineries, and we'll continue to see them run as much as possible unless something shifts dramatically."
The U.S. government lifted its 40-year old ban on crude exports this year, further reducing the deficit. Overall, the Census Bureau said the country exported $7.19 billion in petroleum products in April, down 16 percent from a year earlier, while importing $10.3 billion, down 34 percent.
A smaller trade gap is good news overall for the U.S. economy, Medlock said. The last time the U.S. was this close to even on its petroleum balance sheet in the 1990s, the economy boomed, he said.
"A lot of times, what you need to do to stimulate the U.S. economy is remove barriers, and what you see here is one of those barriers being torn down," he said.
Before it's here, it's on the Bloomberg Terminal.
LEARN MORE