Trump Has Near 50-50 Chance of Winning Election, Ferguson Says
by and
Harvard history professor says markets underestimating odds

Says Trump's foreign-policy proposals are worrying for Europe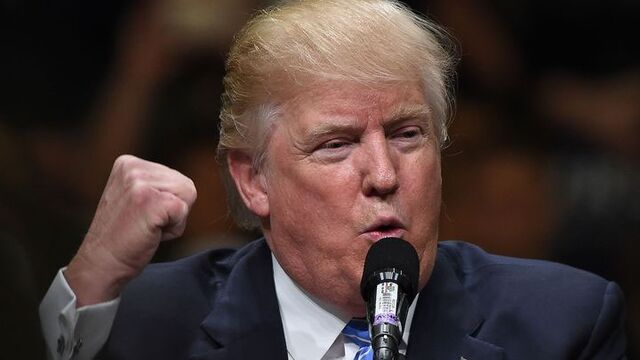 Donald Trump has a better chance of becoming president than markets currently project, according to Harvard University history professor Niall Ferguson.
"Trump has a pretty close to 50/50 chance of winning this election, especially since Hillary Clinton is, let's face it, not a very strong and attractive candidate," Ferguson said in an interview on Bloomberg Television in Berlin on Monday. "We're still kind of underestimating this. The betting markets still think that Trump has a one-in-three, one-in-four shot at being president, but it's actually I think much much higher than that."
The race between the presumptive candidates has grown increasingly heated in recent weeks, with Trump narrowing his Democratic rival's lead to a single percentage point at the end of May. The reality TV star and property mogul has defied expectations by broadening his supporter base.
Ferguson said a Trump presidency would be a worrying prospect for Europe. His foreign-policy proposals, condemned by Clinton as a mix of "bizarre rants, personal feuds and outright lies," include temporarily banning the entry of Muslims to the U.S., forcing Mexico to pay for a wall along the U.S. border and making a deal with Russian President Vladimir Putin.
'Chills the Blood'
"The thing that I really found troubling was this talk in his foreign-policy speech of a 'great deal' with Putin -- I think the idea of Donald Trump flying to Moscow for a bromance with Vladimir Putin really chills the blood," he said. "Presumably it would be about Ukraine, perhaps we might see more territory being handed over. After all, Donald Trump does real-estate deals, that's his speciality."
The Republican candidate's comments that NATO is obsolete could also bring American commitment to European security into question, Ferguson said. Trump has also backed the case for Britain leaving the European Union, a question that will be put to Britons in a referendum on June 23. He will visit the U.K. the day before the vote to open a golf resort on the west coast of Scotland.
"One of the reasons that Europe is a much more stable place than it used to be historically is European integration," Ferguson said. "If the EU starts to unravel -- and Brexit would certainly begin that process -- the long-term prospects for Europe are really quite troubling."
Before it's here, it's on the Bloomberg Terminal.
LEARN MORE