markets
The Hardest Part of the ECB's Bond Buying Could Be Actually Buying the Bonds
Behind the scenes of Europe's newest asset purchase operation.
By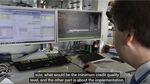 A sterile office scene with staff dress and interior furnishings in matching monochromes: Welcome to the European Central Bank's bond-buying operation.
In a behind-the-scenes video at the control center at the heart of Mario Draghi's €1.74 trillion-plus quantitative easing program released today by the ECB, staffers discuss the inner workings of the operation.
Among the interviews with economists and senior operations executives, the most interesting comment comes from an unnamed trader who offered a reminder of the challenges the ECB will face as it adds corporate bonds to its buying lists from Wednesday.
"It's kind of easy to actually do the trade. It's just figuring out everything else before it," she said.
For corporate bonds, the video reveals two things that need to be "figured out—defining what bonds could be bought, and then actually purchasing them. The ECB checked off the first point at its monetary policy meeting last week. The second part will be harder.
Purchases can take place in both the primary market, where new bonds are sold, and secondary markets, where older bonds trade. But analysts ranging from HSBC Holdings Plc to Bank of America Corp. reckon the ECB will target newly issued bonds, given long-lamented issues over ease of trading in the secondary market. 
And if the ECB is to focus on the new-issue market, it had better move quickly, according to the BofA analysts. That's because the pace of new deals sold into the market is slowing from its breakneck speed achieved since Draghi first announced the corporate-sector purchase program, or CSPP.
"We think the ECB had no time to lose by delaying the start of CSPP until the end of June. After three exceptional months of investment-grade issuance, the primary pipeline is thinning in Europe," the BofA analysts, led by Barnaby Martin, wrote. "After all, there is a limit to how much debt refinancing companies need to do in a year.''
Of course, debt refinancing might not be the only thing those bond purchases are aimed at.
Before it's here, it's on the Bloomberg Terminal.
LEARN MORE