Singapore Bond Market Frenzy Distorts Credit Costs, S&P Says
by
Flight to quality names has been a bit irrational: analysts

'Limited differentiation' seen in Asean firms' funding costs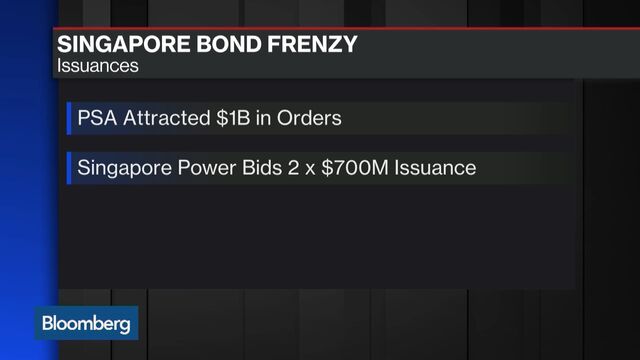 Corporate bond offerings by some of Singapore's biggest companies are drawing such strong demand from investors that they are artificially lowering borrowing costs for weaker borrowers, according to S&P Global Ratings.
Recent offerings from issuers such as state investment company Temasek Holdings Pte, port operator PSA Corp. and electricity distributor Singapore Power Ltd. were "well over-subscribed" amid heightened threat of non-payments by riskier borrowers across Southeast Asia, analysts Bertrand Jabouley and Xavier Jean wrote in an e-mail interview. Banks have also been supporting some companies in the troubled oil services industry, easing default pressure, it said.
Singapore's bond market suffered its first defaults since 2009 when PT Trikomsel Oke missed payments on two bonds with S$215 million ($158 million) of face value in late 2015. Fishery group Pacific Andes Resources Development Ltd. reneged on a S$200 million note in January, while recent debt failures across the region have included PT Berau Coal Energy and 1Malaysia Development Bhd.
"In an environment of perceived rising risks, flight to quality has been a bit irrational," the Singapore-based analysts wrote. "Issuance of highly creditworthy corporates and the frenzy they trigger do not revive the market but simply artificially adjust the cost of credit to the downside, as everyone raising bonds benchmarks their cost of funding against them."
'Limited Differentiation'
The phenomenon isn't unique to Singapore's debt market. S&P's study shows there's "limited differentiation" across capital structures among 150 prominent listed entities in Southeast Asia. Their median cost of funding has fluctuated in a band of 100 basis points, or 1 percentage-point, regardless of their balance sheet quality or leverage levels, the analysts said.
"It is not much more onerous to finance a levered balance sheet," Jabouley and Jean wrote. "Credit risk has looked ill-priced in Asean."
PSA Corp. sold $500 million of 10-year bonds in April, attracting about $1 billion of orders, according to Bloomberg-compiled data, while Temasek's offerings of euro-denominated notes in February also drew large bids. Singapore Power got orders double the size of its $700 million sale of 10-year notes in November.
"As more defaults happen in the domestic bond markets, we think the market will gradually differentiate credit risk better by raising the funding costs for the more leveraged corporates," the S&P analysts wrote.
Oil Services Bonds
There are about S$1 billion worth of bonds issued by energy, oil and gas and shipping companies -- including from Swiber Holdings Ltd., Otto Marine Ltd. and Rickmers Trust Management -- due for maturity over the next 12 months, according to iFast Corp. Some restructuring may be on the cards, it said.
"Investors perceive some difficulty in refinancing" based on the secondary bond prices, said Terence Lin, assistant director of bonds and portfolio management at the Singapore-based fund researcher iFast. "In practice, pricing on the inter-bank market is highly indicative, with wide bid-ask spreads observed and limited liquidity."
Swiber Holdings Ltd., an offshore oil and gas services group, repaid S$130 million ($96 million) of bonds due Monday, it said in a stock exchange filing. The company has another S$75 million of notes maturing on July 6 and S$100 million notes due on Oct. 10, according to Bloomberg data. The group had $122.6 million of cash and cash equivalents minus pledged cash placed with banks at the end of the first quarter, according to its financial statement.
"Banks have been supporting a number of companies, both rated and unrated, especially in the oil services industry, as precipitating a default helps no one around the table," Jabouley and Jean said. "The liquidity of corporates with more bank exposure is likely more solid today compared to that of corporates relying more on capital markets."
Before it's here, it's on the Bloomberg Terminal.
LEARN MORE