Saudi Arabia Said to Tell Lenders to Stop Lowballing Rates
Matthew Martin, Stefania Bianchi and Archana Narayanan
Banks said to submit low rates to disguise real funding cost

Regulator said to ask lenders for information on Saibor levels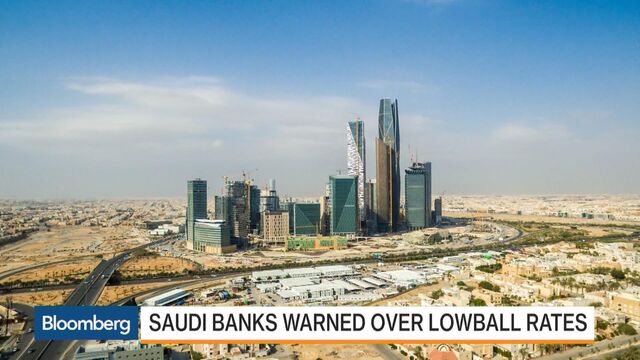 Saudi Arabia is cracking down on banks that are lowballing interest rate submissions, people with knowledge of the matter said.
The Saudi Arabia Monetary Agency has written to banks instructing them not to submit levels to the Saudi Interbank Offered Rate that are below what they're actually willing to lend at, four people said, asking not to be identified because the matter is private. The decision came after some banks were conducting business at higher rates than were quoted, indicating some submissions were below the real market, two of the people said.
SAMA, as the regulator is known, is exerting greater control over Saudi Arabia's banking sector as part of wider reforms in the kingdom. It's clamping down on currency traders amid speculation that the country won't be able to maintain the riyal's peg to the dollar and has also eased rules on bank lending. Liquidity has tightened as the government has withdrawn deposits and sold local currency debt to banks to fund the budget deficit.

Saibor, a benchmark interest rate for riyal-denominated loans, is calculated from the average of submissions from 15 banks, excluding the highest and lowest two rates. The three-month rate has risen 3.1 basis points to 2.18364 percent since SAMA sent out the three-page circular last week, its highest since January 2009.
The Saudi regulator didn't immediately return calls and e-mails seeking comment.
Financial Crisis
During the 2008 global financial crisis, some European banks were found by regulators to have routinely lowballed submissions to the London interbank offered rate, affecting the value of trillions of dollars of loans and derivatives, to disguise their real cost of funding. To date, more than a dozen firms have paid upwards of $9 billion for their part in the scandal, which led to the dismissal of more than 100 traders.
"Given the liquidity squeeze in Saudi Arabia, interbank rates could be higher, but banks might be reflecting lower capital costs in the interests of the wider economy," said John Sfakianakias, Riyadh-based director of economics research at the Gulf Research Center.
As a result of continued credit growth and falling government deposits, the loan-to-deposit ratio across Saudi Arabia's banking sector rose to 88.7 percent at the end of April, a seven year high, according to Jadwa Investment. SAMA raised how much banks can lend to the equivalent of 90 percent of their deposits, up from an earlier limit of 85 percent, people familiar told Bloomberg in February.
The United Arab Emirates said last month it changed the way it estimates Eibor, the local interbank offered rate, to reflect the "true cost" of funds by adding a component on what banks need to pay to attract deposits from large clients.
Before it's here, it's on the Bloomberg Terminal.
LEARN MORE