Running a Brexit Poll? Call Your Lawyer First, Says Watchdog
by
Publishing information on how people have voted is illegal

Investors could beat media by sending observers to key counts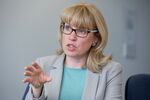 Any banks or hedge funds thinking of commissioning voting-day polls into Britain's referendum on membership of the European Union should speak to a lawyer first, the woman in charge of running the referendum warned.
Brexit Watch: The pound, the polls, and the probability of Brexit, all in one place
Polling companies have said they've been approached by financial institutions hoping to gain an edge by commissioning on-the-day surveys. But they risk falling foul of British electoral law, which forbids the publication of any information about how people have actually voted before polling stations close at 10 p.m. on June 23. Section 66A of the 1983 Representation of the People Act specifies a six-month prison term or an unlimited fine.
"There's nothing to stop you commissioning an exit poll, but it is a criminal offense if you publish that before the close of poll," Jenny Watson, the chief counting officer and the chair of the Electoral Commission, said in an interview in London Monday. "You will want to seek your own legal advice on how you can use it. The intention of the legislation is clear: So that people who are still voting could not be influenced by information being shared about how people have already voted earlier in the day."
The relevant legislation makes clear that the act of publication can be interpreted very narrowly; it says that "means to make available to the public at large, or any section of the public, in whatever form and by whatever means" any "statement relating to the way in which voters have voted at the election where that statement is (or might reasonably be taken to be) based on information given by voters after they have voted" or any similar forecast.
With the latest polls suggesting the June 23 vote may be tight -- and doubts about whether any polls can be trusted -- there is money to be made from correctly anticipating the outcome of the vote. The implied volatility of the pound hit its highest level in seven years on Monday.
For a table of the latest polls, click here.
While much of the focus has been on exit polls, these are problematic. The general-election exit poll relies on visiting the same carefully selected polling stations each time and measuring shifts in voting. It's more than 40 years since Britain last voted on Europe, so there's no baseline to work from.
QuickTake Will Britain Leave the EU?
Instead, those looking to steal a march could consider other possibilities opened up by the way the votes are counted. This will take place in 382 separate areas. Each of those will announce its own result. There is no official results feed, and Watson said the fastest way to follow voting would be from broadcasters or from the Press Association newswire.
But small delays in how those news organizations process results create an opportunity. One option would be to recruit people to attend key counts and phone over the results direct to institutions, assuming the news hasn't been broadcast live.
'Public Event'
"As far as I'm aware, there's nothing that would prevent it," Watson said. "You'd have to apply to be an observer in order to attend a count event -- you can't just turn up. I think there would be nothing to stop you having people there. We quite often have students. It's a public event."
Results will be announced in stages:
Local counting centers declare the total number of votes received, and the turnout

The 11 regional counting centers declare regional turnout levels
Watson declares a national turnout
Local centers declare their results, starting just after midnight
Regional centers declare regional results
Watson declares a national result around breakfast time


But the direction of travel is likely to be clear long before the final vote is counted. In Scotland's referendum in 2014, an early sign as to how the night would go came in turnout: lower in pro-independence Dundee. Then the first result, in Clackmannanshire, where nationalists had thought they were strong, was 54 percent against independence.
Tuesday is the final day to register to vote in the referendum. It can be done online. The deadline to register for a postal vote is Wednesday, and for a proxy vote -- where someone else casts your ballot for you -- it's June 15. Watson said people who are going to be overseas on polling day would be best advised to get a proxy vote, to avoid being caught out by postal delays.
Before it's here, it's on the Bloomberg Terminal.
LEARN MORE