Redstone Amends Viacom Bylaws to Gain Veto on Paramount Sale
by and
Changes require unanimous board approval on any studio deal

Family holding company also limits directors' freedom to act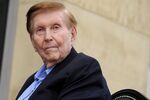 Sumner Redstone's National Amusements Inc. took steps to keep Viacom Inc. from selling part of Paramount Pictures, the latest escalation in a widening battle for control of the media company being waged by management and its biggest investor.
National Amusements, the Redstone family theater chain that controls Viacom's voting stock, said Monday it amended the company's bylaws to bar any transaction involving Paramount without unanimous board approval. Redstone, 93, and his daughter Shari, 62, both sit on Viacom's board. The changes are effective immediately, National Amusements said in a statement.
Redstone's company is moving to ensure that Viacom management, led by Chief Executive Officer Philippe Dauman, doesn't move ahead with any deals for the struggling film studio without the consent of the family that controls 80 percent of the voting stock. Dauman has explored selling a stake in Paramount to repay debt and boost film production, and had hoped to conclude a deal by the end of this month.
"While National Amusements is not opposed to a transaction that would unlock value at Paramount, it firmly believes that any proposed transaction should be thoroughly vetted and approved by Viacom's full board, and the rationale for such a transaction should be clearly articulated to Viacom's stockholders in advance," the company said.
Next Step
With the changes, National Amusements has effectively blocked any deal for Paramount and may now be angling to change Viacom's board as well. Under Delaware law, a controlling shareholder has the ability to remake the board at will, said Jack Jacobs, senior counsel at Sidley Austin LLP and a former member of the Delaware Supreme Court.
In legal filings last week, the elder Redstone cited the potential sale of Paramount as one of the reasons he removed Dauman and Viacom director George Abrams from the trust that will oversee his assets when he dies or is incapacitated. They were also removed from the board of National Amusements.
Those actions have precipitated a public dispute between Redstone and management of Viacom, and a fight for control of the media company, which owns MTV and Nickelodeon, as well as Paramount.
Uphill Fight?
The dispute pits Dauman, Abrams and other members of Viacom's board against Redstone, a majority of the trustees who will ultimately oversee his affairs, and now the board of National Amusements, which unanimously approved the bylaw changes, according to a spokesman. The family company also holds a controlling stake in CBS Corp.
Dauman and Abrams say Redstone is mentally incapacitated and is being manipulated by his daughter. They have also raised questions about the new team of lawyers and spokesmen surrounding the frail billionaire, who has difficulty speaking. Shari Redstone declined to comment on the latest changes.
A Massachusetts probate on Tuesday will hear Dauman and Abrams' request for an expedited trial in their suit to be reinstated as members of the Redstone trust that will control the billionaire's $40 billion media empire.
"These illegitimate actions stem directly from the invalid changes made to the National Amusements Inc. board and are completely at odds with good corporate governance," Viacom said in an e-mailed statement. "They are clearly intended to impede the ability of the Viacom board of directors to fulfill its obligations to all stockholders, including the public non-controlling stockholders who own 90 percent of the equity of Viacom."
Bylaw Changes
National Amusements made other changes to Viacom's governance, including one that specifies the board can amend the bylaws only by a unanimous vote.
Redstone's company also repealed any changes to the bylaws adopted by Viacom's board since September 15, 2011, the date of the most recent version of the bylaws filed by the company with securities regulators, and took steps to ensure that the Delaware Chancery Court is the exclusive jurisdiction for certain corporate litigation.
"The majority stockholder has the raw voting power to do that to amend the bylaws, but it is somewhat unusual to amend a bylaw to require a unanimous vote of the board," said Jacobs of Sidley Austin. "It changes the rules of governance and means that any single director, no matter for what reason, would be able to block a change that the other directors believe is in the best interests of the company and its shareholders."
Unanimous Vote
The amendments were approved unanimously by the board of National Amusements, which includes Sumner, Shari and David Andelman, a long time attorney for Sumner who also sits on CBS's board. After booting Dauman and Abrams last month, Sumner Redstone added former media analyst Jill Krutick and National Amusements' general counsel Thaddeus Jankowski.
"A lot of this is just posturing," said Charles Elson, director of the John L. Weinberg Center for Corporate Governance at the University of Delaware. "The end game is they have the votes and the votes always win, unless you say it damages other shareholders, which is very hard to do. If you're a minority investor, you're sitting on the sidelines. "
National Amusements said it took action because of recent statements by Frederic Salerno, Viacom's lead independent director. His comments "indicate that the principal focus of the independent directors is on preserving their own positions and those of Viacom's management team rather than on exercising their fiduciary duty to promote the long-term interests of all Viacom stockholders."
Before it's here, it's on the Bloomberg Terminal.
LEARN MORE