One of the 'Safest' Parts of the Stock Market Is Getting Really Expensive
Goldman Sachs cuts ratings, price targets on two utilities stocks.
by and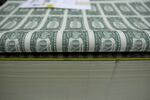 Investors taking refuge in defensive utilities stocks have pushed the sector to rich levels, according to Goldman Sachs Group Inc.
Analysts led by Michael Lapides note that regulated utilities now trade at a forward price-to-earnings ratio in excess of the S&P 500 based on estimated 2017 and 2018 earnings. That ratio is also elevated relative to the sector's five-year average.
"On an absolute basis, utilities still screen expensive," writes Lapides.
The outperformance of utility stocks last week stood in stark contrast to the previous three months, in which more cyclically sensitive segments of the market led the way, Bloomberg's Lu Wang highlights.

In 2016, investors have shown a big appetite for safe-haven assets. Exchange-traded funds designed to minimize volatility, for instance, have been incredibly popular, attracting billions of dollars of inflows this year. Some strategists are worried that investors herding into these products will be sellers in the event of market turmoil, exacerbating the downward pressure on the underlying holdings.
Boenning & Scattergood Analyst Ryan Connors, for instance, downgraded American Water Works Co. Inc. on Monday morning, highlighting the role of passive buying in making the stock too pricey.
While utilities are trading at elevated valuations, this is in part justified by low U.S. Treasury yields, Goldman's analyst notes.
"Historically, given yields between 2-3 percent, utilities traded near a 0.5-1.5 times premium to the S&P 500," writes Lapides.
That's why the firm doesn't have an even more cautious view on the sector and believes utilities stocks may be able to sustain these lofty valuations.
The analyst lowered his rating on Sempra Energy to "neutral" from "buy" and cut Portland General Electric Co. to "sell" from "neutral," also reducing his price targets on both equities.
Before it's here, it's on the Bloomberg Terminal.
LEARN MORE