Kuroda Should Drop Two-Year Inflation Target, Ex-Director Says
by and
Momma says time frame not worth taking more drastic measures

He says the BOJ is already conducting 'very bold stimulus'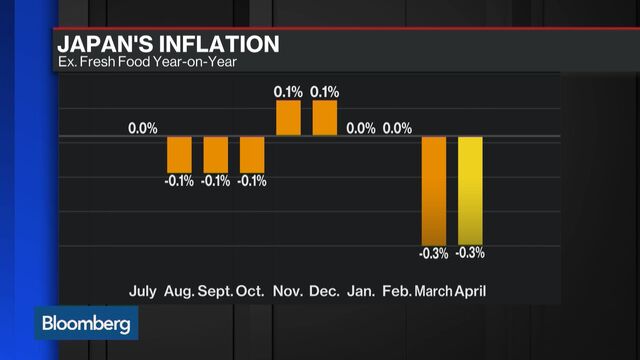 The Bank of Japan should abandon its two-year time frame for achieving 2 percent inflation to avoid the pressure of having to take more drastic measures to reach the distant goal, said a former BOJ executive director.
"It's already conducting very bold stimulus," Kazuo Momma, who stepped down from his position at the central bank on May 31, said in an interview on Monday. "If they deploy more policies that defy common sense, they'll need to do a certain amount of explaining and, above all, it will be difficult to discern the pros and cons."
While Governor Haruhiko Kuroda remains far from his price target after more than three years of unprecedented asset purchases, he's repeatedly said his aim is to meet the goal "at the earliest time possible with a time horizon of about two years." This has fueled a cycle of easing expectations before each BOJ policy meeting, which in most cases end with no change in policy.
Kuroda and his board next meet on June 15-16 after having disappointed the markets with no action in April. On the two occasions the BOJ has expanded its stimulus program -- by adopting negative rates in January and with expanded asset purchases in October 2014 -- many investors were caught off guard.
He has pushed back the time frame on the price target on four occasions, only once in conjunction with more stimulus.
HSBC Holdings Plc and Mitsubishi UFJ Morgan Stanley Securities Co. are among those predicting further easing this month.
'No Major Risk'
"I see no major risk to compel the BOJ to expand stimulus in the near future as risks in the global economy aren't increasing," said Momma, 58, now an economist at Mizuho Research Institute. "There is little change in Japan's economic fundamentals."
The central bank has pushed out meeting the price goal to sometime in fiscal 2017, that is, the 12 months ending in March 2018. Most economists think that time frame is too ambitious. Japan's core consumer price gauge dropped 0.3 percent in April for a second month.
Momma, who worked at the central bank for about 35 years, said it would be better for the BOJ to simply make the time frame a long-term price goal, as is the case with many central banks. In the end, a decision on further easing will be determined by how much the BOJ wants to achieve the target during fiscal 2017, he said.
A rebound in oil prices this year could offer a ray of hope for the BOJ. Dubai crude, a benchmark watched by the central bank, was at $45.6 per barrel late Monday after it hit $22.49 in January, the lowest level since 2002.
Easing Divide
Concerns about the BOJ's easing measures are rising even within the central bank. Takehiro Sato, one of nine board members and a dissenter in the two stimulus expansions, said last week that the bank should explore more flexible approaches to the monetary base target.
The BOJ's balance sheet swelled to 81 percent of national gross domestic product at the end of March while that of the U.S. Federal Reserve was 25 percent and the European Central Bank's was 28 percent, according to a report by the BOJ Friday.
Momma was an executive director in charge of international affairs since March 2013 when Kuroda became governor. Before that, he was the head of the monetary affairs department under former BOJ chief Masaaki Shirakawa and led the economic statistics division prior to that.
Before it's here, it's on the Bloomberg Terminal.
LEARN MORE