JPMorgan, RBS Said to Staff Trading Floors Overnight for Brexit
by and
Lloyds also said to keep traders working overnight on June 23

Currency trading revenue may get boost from the activity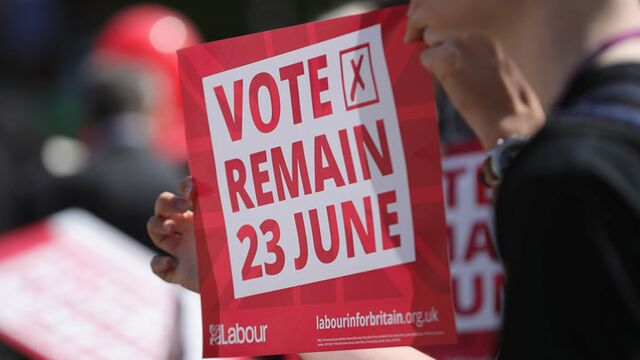 U.K. politicians won't be the only ones settling in for a long night as the polls close on June 23.
Brexit Watch: The pound, the polls, and the probability of Brexit, all in one place
JPMorgan Chase & Co., Royal Bank of Scotland Group Plc, Morgan Stanley and Lloyds Banking Group Plc are among banks in London who plan to keep traders overnight to monitor the markets and handle client trades as results of the referendum on European Union membership trickle in, people with knowledge of the plans said. Currency traders, whose market stays open 24 hours, are among those most likely to remain in the office as they grapple with moves in the pound that have grown more volatile as the vote approaches.
While senior bankers have warned that Brexit could reduce their numbers in the City of London, trading volumes around the vote may serve as a boon for struggling securities units. Currency trading revenue at the biggest investment banks fell 32 percent from a year earlier in the first quarter, part of a broader 28 percent drop in fixed-income revenue, according to Coalition Development Ltd.
"A volatile June driven by uncertainty around the U.K.'s EU referendum vote could help foreign-exchange revenues," offsetting the normal seasonal slowdown, Kian Abouhossein, a bank analyst at JPMorgan, said in a note Monday.
The pound fell as much as 1.1 percent against the U.S. dollar Monday, and one-month implied volatility in the pound-dollar pair surged to the highest since February 2009 as polls showed more Britons favored quitting the EU.
Hotels, Bonuses
JPMorgan, which is based in New York and has about 16,000 employees in the U.K., has booked hotel rooms for traders in Canary Wharf, one of the people said, declining to be identified as the details are private. RBS will have a few senior currency traders in London overnight and will handle some trading from its U.S. and Asia hubs, another person said.
Voting will close at 10 p.m. in London on June 23. Hedge funds and banks have reached out to opinion-polling companies about ways to glean insight on the day, staff at the polling firms said last month. The need for information is great because no official exit poll is being conducted for release once voting ends, it's unclear how soon early results will show a clear trend, and a final tally isn't due until the next morning.
Even equity traders who have more set market hours may stay at their desks longer than usual. Mint Partners, a division of BGC Brokers LP, will have London employees work until 9 p.m., when U.S. stock exchanges end regular trading, and U.S. and Asia desks will have extended coverage focused on Brexit, said Parag Patel, head of exchange-traded funds trading at the firm.
ETX Capital, a London-based broker of contracts-for-difference, a form of derivatives, will offer food, taxis and a small bonus to incentivize about 20 traders and customer-support employees to work through the night, said Joe Rundle, head of trading. About 60 percent of the firm's trades are tied to foreign exchange, and Rundle said he expects this to be the busiest period so far this year.
Increasing the amount of staff on hand isn't unusual for banks and brokers around significant macroeconomic events. Currency traders cut short their weekends last July to gear up for trading around Greece's referendum on the terms of its bailout package.
Bankers including JPMorgan Chief Executive Officer Jamie Dimon, Stuart Gulliver of HSBC Holdings Plc and Deutsche Bank AG CEO John Cryan have warned they'll have to move activities and thousands of staff to other European nations because of potential regulatory hurdles and client demand.
Before it's here, it's on the Bloomberg Terminal.
LEARN MORE