Johnson's Star Wanes With Osborne as Brexit Tears Tories Apart
by
Chancellor criticized over 'Project Fear' economic campaign

Ex-mayor's Hitler, Obama comments deal blow to reputation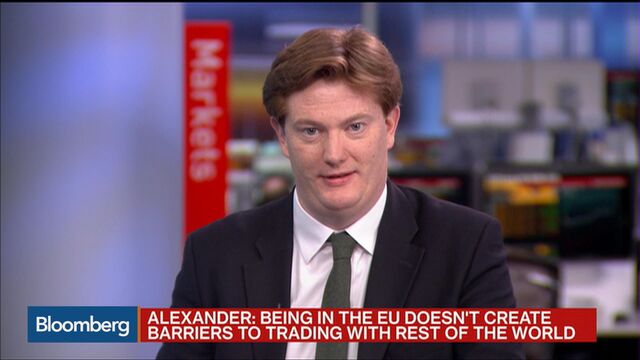 For George Osborne and Boris Johnson, the European Union referendum provided a potential arena to further their ambitions to succeed David Cameron as prime minister. It may instead have cut them short.
Brexit Watch: The pound, the polls, and the probability of Brexit, all in one place
The chancellor of the exchequer, the government's key strategist in its push to keep Britain in the EU, has faced criticism for using the Treasury to support a campaign dubbed by opponents "Project Fear." Former London Mayor Johnson, the highest-profile campaigner for a so-called Brexit, has also seen his credibility take a blow, as he struggles to make his mark as a serious politician.
With both sides swapping accusations and insults, the campaign has split the Conservative Party down the middle. Speculation of a challenge to Cameron's leadership in the event of Brexit –- or even after a close result -- has risen, and the prime minister has confirmed he won't be seeking a third term.
"Neither Osborne nor Johnson will come out of this well," said Wyn Grant, professor of politics at Warwick University in central England. "For Osborne, already seen as a colder personality than Cameron, it's the risk that his economic credibility is undermined. For Johnson, it's the fact he's always been seen as a bit lightweight but now risks being seen as rogue."
For more on how Johnson appeals to voters, click here.
Both men, each in turn a favorite for three consecutive months in a regular poll of Tory activists to lead the party, have seen their popularity slip. Johnson, in the lead more recently, has ceded his place to Justice Secretary Michael Gove, who has 22 percent support, according to the latest survey by Conservative Home. Osborne now attracts the backing of only 8 percent. Bookmaker William Hill still has Johnson as the favorite, but Gove's odds have shortened, with Osborne now only the third favorite.
In the chancellor's case, even a clear win for the "Remain" camp may not be enough to salvage his political fortunes. Both economists and Parliament's Treasury Committee questioned the veracity of his assertions about the threat to the economy from Brexit during the referendum campaign, damaging the image Osborne has sought to create as a safe pair of hands. He published reports predicting thousands of pounds wiped off incomes, the loss of hundreds of thousands of jobs and house prices dropping by a fifth.
That came after political opposition, including from within his own party, forced him to backtrack on a number of measures introduced in his March budget, from a planned cut to disability benefits to school reforms.
Budget Deficit
His pledge to eradicate Britain's budget deficit by the end of the decade, one of the Conservatives' key promises before the election and the point on which he has staked his reputation, is looking increasingly difficult to achieve.
QuickTake Will Britain Leave the EU?
Figures last month showed the budget overshot official forecasts by almost 4 billion pounds ($6 billion) in the latest fiscal year. Net borrowing was 76 billion pounds in 2015-16, or 4 percent of gross domestic product. Only in March, the Office for Budget Responsibility had forecast a deficit of 72.2 billion pounds.
"The damage with Osborne was already done with the budget, and his credibility blown with the public," said Anthony Wells, the YouGov Plc research director who runs the U.K. Polling Report website. "When the economy wasn't doing too badly last year, people started to respect George Osborne, but they don't warm to him. So as soon as economic optimism flagged his ratings were on the floor again."
'Fighting Chance'
For Johnson , a close vote at the referendum -- or indeed a vote to exit the EU -- sparking a leadership contest within months could still mean a turnaround in his fortunes. The Number Cruncher Politics Brexit Probability Index stood at 23.4 percent on Monday, its highest level since mid-May.
"If the leadership election is shortly after the referendum, in the whole context of Remainers versus Brexiteers, Boris is still in with a fighting chance," Wells said.
That would mean, though, erasing activists' memories of a campaign in which the outspokenness that once made Johnson so popular has backfired. His suggestion that U.S. President Barack Obama's Kenyan heritage might give him an anti-British bias prompted accusations of racism. An appearance in front of the Treasury Committee was criticized as "shambolic," and he's been slammed for a failure to present accurate facts.
Banana Rules
The ex-mayor also suggested the EU shared Adolf Hitler's goal of uniting the continent and alleged the bloc banned bananas from being sold in bunches of more than three. EU President Donald Tusk called Johnson's words "absurd," while former Deputy Prime Minister Michael Heseltine questioned his fitness to become prime minister.
Asked on BBC Television Sunday whether he'd decided to back Brexit because he saw it as his best way of becoming premier, Johnson responded: "Absolutely nonsense."
If Cameron does manage to stave off a leadership challenge, both Osborne's and Johnson's chances to secure the leadership may be a thing of the past. Some in the party, including former Tory leadership candidate David Davis, believe the next Conservative leader may still be a relative unknown. John Major, the last Tory to take over at the head of a government in mid-term, was an outsider before the 1990 leadership contest started.
"Nobody saw Thatcher coming a year in advance, nobody saw Major coming a year in advance, nobody saw Hague coming a year in advance, nobody saw Cameron coming a year in advance," Davis said in an interview with the New Statesman. "We almost certainly don't know who the next Tory leader is." 
Before it's here, it's on the Bloomberg Terminal.
LEARN MORE