India Rate Decision Day Guide: Seeking Clues on Rajan's Future
by
Economists see RBI leaving rates unchanged ahead of monsoon

Room for more cuts limited by Fed, risks to inflation target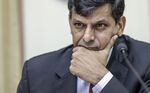 The Indian central bank's decision on interest rates may be beside the point for investors and economists on Tuesday, when Governor Raghuram Rajan is set to be grilled on his appetite for a second term in his job.
"The biggest question in investors' mind would be whether Raghuram Rajan would get a two-year extension to his first term, which expires in September," Deutsche Bank AG's Kaushik Das and Taimur Baig wrote on June 3. A lack of clarity from both Rajan and the government, as well as conflicting press reports on their intentions, have clouded the outlook.
Accelerating inflation tempered by forecasts of above-average monsoon rains means that Rajan will probably leave the benchmark rate unchanged at a five-year low of 6.50 percent while he waits for clarity on everything from reservoir levels to U.S. interests rates, according to all 44 economists in a Bloomberg survey. A separate survey shows expectations for a quarter-point cut later this year.
Rajan will have a chance to address his future at a press briefing that typically comes straight after the policy statement, which is scheduled for release at 11 a.m. in Mumbai. Here's what to look for in both:
Should I Stay or Should I Go?
Rajan has yet to publicly indicate whether he's interested in staying on as governor. The issue has gained more urgency after Subramanian Swamy, an ally of Prime Minister Narendra Modi, started a public campaign seeking his dismissal for keeping borrowing costs unnecessarily high. Swamy has also attacked Rajan personally, saying he's "mentally not fully Indian."
Deutsche doesn't expect any clarity on his term this week. Modi has indicated it's too early to make a decision, a line repeated by Finance Minister Arun Jaitley.
Still, even a signal from Rajan about whether he's open to an extension has potential to move the markets. Bonds and the rupee fell last week after a local newspaper reported that Rajan told Modi he doesn't want to stay.
Getting to 5 Percent
Consumer prices have increased by more than 5 percent for five of the past six months, above the central bank's goal for March 2017. With oil prices rebounding and a pay increase for bureaucrats looming, it's not clear whether a good monsoon alone is enough to help Rajan meet his inflation target.
While the government played its part by keeping an increase in support prices for key crops moderate last week, economists will look for signs that Rajan sees more room to ease after five rate cuts since January 2015.
"Early showers that fill the carry-over deficit in India's reservoirs will be critical for driving down food prices," HSBC Holdings Plc economists Pranjul Bhandari and Prithviraj Srinivas wrote on June 2. That could enable one more cut in August, they wrote.
Global Headwinds
Another concern is the probability of rising U.S. interest rates, despite poor jobs data last week. Any increase in the second half of this year would coincide with the end of Rajan's term as well as dollar outflows as the majority of $34 billion in emergency foreign-currency swaps mature.
Rajan in a speech last month also flagged the impact that a sharp Chinese slowdown would have on South Asia. He mentioned oil prices and a potential exit of Britain from the European Union as other risks.
Are Banks in a Position to Lend?
"To the extent the RBI does want to see further loosening, we expect it to focus on improving the transmission mechanism rather than adjusting policy rates," according to Shilan Shah, a Singapore-based India economist at Capital Economics Ltd.
In the April meeting, Rajan had announced steps to ease a prolonged funding squeeze in a move to prod banks into passing on more of 150 basis points in cuts since January 2015.
Since then, credit growth has remained weak while public-sector banks reported a surge in impaired assets. Rajan, who's given banks until March 2017 to clean up their balance sheets, has yet to comment on the latest data or the willingness and ability of banks to pass on lower rates.
Before it's here, it's on the Bloomberg Terminal.
LEARN MORE