Hedge-Fund Exile Trades Graphs for Grapes to Challenge Champagne
by
Bankers pour in as U.K. seeks to double wine production

Champagne says English bubblies no threat, but it invests too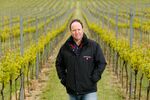 For centuries the rolling hills of Sussex in southern England have grown barley for local beer brewers. Now former hedge-fund manager Mark Driver is replacing the grain on his land with grapes in a bid to challenge Champagne.
Driver, one of a number of exiles from London's financial district who are investing in U.K. sparkling wine, is spending more than 14 million pounds ($20 million) of his own money to transform Rathfinny Estate, which overlooks the English Channel about 70 miles south of London, into the U.K.'s biggest vineyard.
"I used to value businesses all the time, and it's hard to overstate the opportunity here," Driver said in an interview. "Our wine can be at least as good as Champagne and the intellectual challenge in achieving that beats sitting in front of a computer watching shares go up and down all day."
Not long ago, anyone comparing English sparkling wine to France's signature bubbly would have been urged to settle up and call it a night. But Champagne's success -- shipments have risen for three consecutive years to a record value of more than $5 billion a year -- and the U.K.'s thirst for sparkling wine present an opportunity.
Unlike other would-be challengers, English sparkling-wine vineyards sit on similar land to the chalky soil that gives Champagne its distinctive taste. Driver has planted the same grape varieties that go into the French bubbly and adopted its centuries-old wine-making process, called the methode traditionelle. He's hired a French winemaker -- Jonathan Medard, who trained at Champagne house Moet & Chandon -- to oversee the winery.
In a country preparing for a June 23 referendum on whether to leave the European Union, the prospect of nipping an old nemesis, France, in an area of national pride gets mouths watering. English sparklers topped French competitors in an April tasting in Paris, organized by the U.K.'s Wine and Spirit Trade Association. It echoed the so-called Judgment of Paris 40 years ago, when California cabernets and chardonnays beat the reds and whites of Bordeaux and Burgundy.
300 Million
Driver, a founding partner of London-based Horseman Capital Management, and other English growers have a long way to go before they rival Champagne in quantity. The French region produces more than 300 million bottles a year, compared with about 4 million bottles, worth about 100 million pounds ($145 million), for English sparkling wine.
The U.K. is the largest export market for Champagne by volume, snapping up 512 million euros worth in 2015. Demand for a lower-end sparkler, Prosecco from Italy, is running so high that grocer J Sainsbury Plc this month withdrew a promotional offer because of shortages.
Environment Secretary Liz Truss said in March that she wants to double production of U.K. still and sparkling wine to 10 million bottles by 2020. Over the last five years, 170 winemakers have registered with U.K. tax authorities, bringing the total to about 500 -- still well short of the 16,000 growers in Champagne.
"I think it's just the beginning of a significant trend," said Nicholas Coates, a former banker at ING Barings and Royal Bank of Scotland who co-founded winemaker Coates & Seely. "It's logical to assume more and more of Champagne's market share in the U.K. will be eaten into."

One attraction is the lower price of land, compared with Champagne. A hectare (roughly 2.5 acres) in the French region can change hands for as much as 2 million euros, about 50 times the price of a similarly sized plot in Sussex or neighboring regions like Hampshire and Kent, said Ian Kellett, a former managing director at Dresdner Kleinwort Benson who now runs Hambledon Vineyard.
Champagne houses have taken notice. Last month Vranken-Pommery Monopole SA announced a production partnership with U.K. sparkling-wine maker Hattingley Valley. In December, Taittinger SA bought 69 hectares in Kent.
Comite Champagne, a trade group, says it's unconcerned about competition from the U.K. Bruno Paillard, president of the organization's appellation and communication division and chairman of Champagne house Lanson-BCC, cited loyalty from U.K. customers, along with strict production regulations.
Prices, Exports
"The sparkling wine I've tasted from England is not at all exceptional for the price," said Juan Sanchez, who manages retail shop La Derniere Goutte in Paris and doesn't stock British bubblies. "If French customers ask us for English sparkling wine, it's going to be more out of curiosity than anything else."
British drinkers, by contrast, are seeking out English sparkling wine amid a growing interest in locally produced food and drink, Driver said. U.K. producers are pricing their sparkling wines comparably to the 30 pounds or so that a bottle of entry-level Champagne from one of France's big houses fetches. A bottle of Nyetimber Classic Cuvee 2010 from West Sussex sells for 34.50 pounds at retailer Fortnum & Mason in London. 
Driver bought the land for Rathfinny in 2010 after leaving Horseman Capital and studying viticulture and oenology at nearby Plumpton College. After planting the vines, he started harvesting grapes for his first sparkling wines in 2014, which he plans to begin releasing in 2017.
He said he's negotiating with several distributors and hopes to cover operating costs in 2019. Eventually, the 600-acre estate will be able to make more than 1 million bottles, Driver said. He's eyeing North America and Asia for exports, which currently represent only 3 percent of U.K. wine production.
"The ambition is, people go into a bar in Beijing and the waiter asks, 'Do you want a glass of Sussex or a glass of Champagne?' " he said.
Before it's here, it's on the Bloomberg Terminal.
LEARN MORE