Draghi Smashes Corporate Yields to 1% Before a Bond Is Bought
By and
A rush for company debt as ECB readies to start purchases

'Very scary' prospect for some; push into speculative grade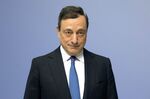 Even before Mario Draghi starts his corporate-bond buying program on Wednesday, he's pushed down borrowing costs in Europe toward unprecedented levels.
The average yield on investment-grade company notes in euros tumbled to 1.002 percent on Monday, according to Bank of America Merrill Lynch index data. That's the lowest in more than a year and a smidgen away from dropping below 1 percent, something that's happened in just one other period.
Companies benefiting from the lower borrowing costs are issuing bonds at an increasing clip. More than 50 billion euros ($57 billion) were sold in the single currency in May, the second-busiest month on record. Air Liquide SA, the investment-grade French industrial gas maker, issued 3 billion euros of bonds on Monday, with just one of five parts of the deal priced with a coupon above 1 percent, according to data compiled by Bloomberg.
For investors looking for higher yields, the program is painful, sending them searching the world over for decent returns. Now that the European Central Bank is expanding its asset-purchase program to include corporate bonds along with covered bonds, asset-backed securities and government debt, investors worry the central bank will crowd them out and make it even tougher to find yield.

"The ECB is distorting the market," said David Riley, who helps oversee $58 billion of assets as head of credit strategy at BlueBay Asset Management LLP in London. "There's a shock associated with yields falling below 1 percent."
Draghi, the ECB president, has been shaking European debt markets since 2012, when he pledged to do "whatever it takes" to save the euro and presented a bond-buying program dubbed Outright Monetary Transactions. He shocked markets with an interest-rate cut in November 2013, and has lowered borrowing costs three more times since then, pushing the ECB's main rate to zero for the first time ever in March.
Yields on investment-grade corporate securities first fell below 1 percent last year, when Draghi expanded the bond-purchase program, dropping as low as 0.93 percent in March 2015, before climbing as high as 1.58 percent in September. Yields are down from around 4.5 percent at the height of the sovereign-debt crisis in 2011 and 7.3 percent in 2008, the highest in data going back to 1996.
'Comfort Zone'
"The prospect of average yields below 1 percent is very scary," said Juan Esteban Valencia, a credit strategist at Societe Generale SA in Paris. "Investors are being pushed outside their comfort zone to sectors like high-yield debt, where they may not have expertise."
Bond markets around the world are being distorted as central banks step up cheap-money policies to bolster growth and prevent deflation. About $10.4 trillion of government bonds globally have negative yields, with Japan "by far the largest source," according to a June 2 Fitch Ratings report.
Some investors are pushing back and even the most conservative firms are turning to speculative-grade debt, traditionally among the riskiest of fixed-income assets. 
'On Strike'
"We're on strike when it comes to euro investment-grade paper," said Gordon Shannon, a portfolio manager at TwentyFour Asset Management LLP, which oversees 6.3 billion pounds ($9.1 billion). "The program has ground spreads down so much that we can't bring ourselves to buy. We're buying instead sterling and dollar investment-grade paper, and high-yield bonds."
Companies are benefiting from lower borrowing costs and sub-investment grade issuers are also taking advantage, with at least six deals announced on Monday.
The ECB's corporate-bond purchases will be carried out by six national central banks, and will include insurers and non-bank companies even if those companies own a bank. The maturity of eligible debt will be from six months to 30 years. The ECB hasn't said how much of the asset class it will buy.
Purchases can take place in both the primary market, where new bonds are sold, and secondary markets, where older bonds trade.
Air Liquide's deal included a two-year, floating-rate note that priced to yield 20 basis points above the three-month euro interbank offered rate, according to data compiled by Bloomberg. Though Euribor is minus 26 basis points, meaning the bonds were theoretically offered at a negative yield, floating-rate notes are effectively floored at zero percent, according to Suki Mann, founder of bond-market commentator CreditMarketDaily.com.
"A fair portion of the market is already trading below 1 percent at the shorter-maturity end," said Henrietta Pacquement, a portfolio manager at ECM Asset Management Ltd., part of Wells Fargo Asset Management, which oversees more than $480 billion. "People are taking advantage of the opportunity to issue."