Chinese Firms Will Target U.S. Megadeals, Goldman's Lemkau Says
by , , , and
Companies in China 'still learning' M&A, Goldman co- head says

Chinese buyers have accounted for 24% of global deal volume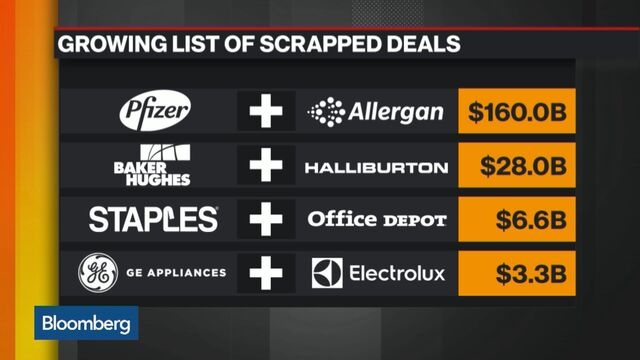 Chinese companies are "still trying to learn how to do outbound M&A" but that won't stop them from targeting U.S. and European deals worth more than $10 billion, according to Goldman Sachs Group Inc.'s global co-head of mergers and acquisitions.
Despite worries from U.S. boards that Chinese firms won't provide promised capital or get regulatory approval, buyers from China are likely to pursue strategic targets above $10 billion, Gregg Lemkau said Monday on Bloomberg TV's Deals Report segment.

Chinese buyers have accounted for about 24 percent of all global deal volume this year, an increase from their usual annual output of about 10 percent, Lemkau said. China National Chemical Co., known as ChemChina, agreed to acquire Syngenta AG in February for about $43 billion, the largest announced deal of the year.
"There really is a focus on, to one degree, brands, and to another degree, technology," Lemkau said of Chinese buyers looking for international deals. "I don't think they'll be necessarily limited by size. There's a big appetite to do things."
Still, there have been some high-profile missteps. Anbang Insurance Group Co. withdrew a $14 billion takeover bid for U.S. hotel operator Starwood Hotels & Resorts Worldwide Inc. just days after making an offer. Fairchild Semiconductor International Inc. agreed to accept a $2.3 billion bid from On Semiconductor Corp. instead of a Chinese bid that was 10 percent higher.
"For a lot of these U.S. public company boards, they don't know who these Chinese companies are," Lemkau said. Chinese companies are "trying to establish the credibility that they've got a track record of doing these deals successfully. There's been a handful of stumbles, so the bar is even higher for these companies now."
Before it's here, it's on the Bloomberg Terminal.
LEARN MORE