World
This Region Holds the Key to China's Modern Day Silk Road
Bloomberg News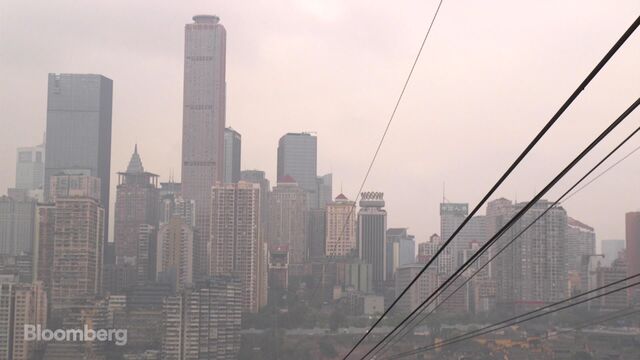 Growing up in a fishing village along the Yangtze River in Chongqing, Peng Jianhu used to clamber down to the water from his home perched on wooden stilts and nestled into the riverbank's steep cliffs. For Peng, the nation's largest river system is an economic wellspring, linking his home to bustling coastal markets some 1,400 km (870 miles) to the east.
For President Xi Jinping, Chongqing's strategic location is also an asset, but one that his government hopes will someday connect China to the west. The city figures to be a key logistics hub in a state effort to fashion a modern-day Silk Road, a web of railway, waterway and road networks that will give Chinese companies far more speedy and affordable access to markets across central Asia, Russia and into Europe.
The heavy infrastructure requirements for the Silk Road economic belt in Eurasia (and a maritime version that would extend from Southeast Asia to the Suez Canal) could soak up the overcapacity in China's steel and construction industries and stimulate new trade flows. Chongqing may be a big beneficiary.
"Logistics is the vessel, and trade is the blood," Huang Qu, deputy director of the city's Free Trade Port Area, said during a recent tour of the area. "Chongqing will become the hub connecting Central Asia to the Atlantic Ocean."

Yet this thriving region isn't just a logistics play. It's already a leader in high-end manufacturing (one-third of all laptops sold in the world are made here) and it's making a big push into robotics. Chongqing is a magnet for foreign multinationals seeking lower labor costs and closer access to the 300 million consumers who live in a 1,200-km radius from the city.
The municipality of 30 million people's state-led development approach fueled growth of 11 percent last year, the fastest pace nationwide, with Xi praising policy innovations that have included subsidized housing and relaxed residency rules that encourage labor mobility. Chongqing's challenge is to keep bucking the broader slowdown and use its rail and river networks to help the nation's under-developed west narrow the wealth gap with richer coastal provinces.
Chongqing's Rise
Peng, a 59-year-old entrepreneur and one of the wealthiest men in Chongqing, embodies the entrepreneurial energy of the city. He left a safe government job to build a successful river cruise business, investing millions of dollars in vessels to carry tourists downriver.
Among the first wave of those who embraced market reforms inspired by then-leader Deng Xiaoping's famous "southern tour" in 1992, Peng started his first travel agency with 500,000 yuan (about $60,000 at the time) in 1994 to accommodate foreign tourists who wanted to see the storied Yangtze River. Now his Chongqing New Century Cruise Co Ltd. is shopping for deals throughout Europe that could be worth up to $300 million, said Peng, while sitting on his cruise ship moored to the riverside dock.

Global Ambitions
Chongqing has been on a roll since the central government announced a plan in 2000 to develop western China, with favorable policies that encouraged funds to pour into the province. In 2013, however, the city's name became tainted by the corruption conviction of Bo Xilai, the former Communist Party Secretary of Chongqing.
Now, the city wants to take a leadership role in Xi's Silk Road initiatives. It already has a leg up with its expanding and state-funded railway project called Yuxin'ou—a contraction of the Chinese words for Chongqing, Xinjiang and Europe—that now connects China to Germany via Kazakhstan, Russia and Poland. The railway network logged 257 freight trips in 2015 and cut costs to compete with maritime shipments.
Such logistics have helped pull in investments from Ford Motor Co. and Hewlett-Packard, and has attracted more than $10 billion in foreign capital annually over the past five years. Beijing-based BOE Technology Group, a supplier of semiconductor displays, built its largest factory in Chongqing.
"Chongqing has the most laptop makers and produces the largest volume of laptops in the world," boasts Li Wenbo, a manager with BOE's strategy planning department in Chongqing. "With the Yuxin'ou railway, we can easily ship our products to European countries at a lower cost."
Global automakers such as Volkswagen and General Motors are bringing production inland, to Chongqing and Wuhan. Ford opened an engine plant in 2013 in Chongqing that could more than double annual production capacity of engines at its joint venture with Changan Ford.
"We're now mainly focusing on the domestic market, but we'll spare no effort to grab overseas expansion," said Le Peng, an inspector with Chongqing Liangjiang New Area Development Committee. "Still, we have a domestic market with huge potential."

Charm Offensive
Mayor Huang Qifan, 64, sought and received help from central government agencies to make sure his railway got favorable treatment and was competitive on cost relative to eastern ports. "We have turned a disadvantage to an advantage," Huang said in a speech last June.
Local companies have benefited from a lower corporate income tax rate imposed by the central government across the western part of the nation. As part of a plan to attract more migrant workers, Chongqing has built nearly 45 million square meters of public housing, more than any other place in China, and reached its goal four years early.
The city has generally avoided overcapacity problems that have dogged most of the country's steel, coal and property sectors in such provinces as Shanxi. Chongqing is tapping other provinces to look for new growth. Last year, it reached out to Guangdong Jaten Robot & Automation Co Ltd, based in Foshan, Guangdong province, to build a factory and a research and development center in Chongqing.
"Some other local governments also came to us and wanted us to transfer our businesses to their regions, but they're not as sincere as Chongqing officials and they don't have that many attractive policies," said CEO Fu Zhiyun. "I think Chongqing has a bright prospect with the development of the railway, and we are also considering moving more businesses to Chongqing in the future."
Robot Capital
In 2011, Mayor Huang pledged to make Chongqing the "robot capital," aiming to build robot industry sales to 100 billion yuan by 2020, compared to about 15 billion yuan last year. It brought in experts from the Chinese Academy of Sciences, the country's top science institute based in Beijing, to establish a research center. Chongqing now sells nearly 3,000 robots a year.
Zhou Guojun, deputy manager of Chongqing's robot branch of Wuhan Huazhong Numerical, said investment in a robot can be recovered within three years. "The maintenance of a robot doesn't cost much more than the cost for a car. And a robot never needs a rest and has nothing to complain about," said Zhou.
Some of Chongqing's robots are shipped to Guangdong and other coastal provinces where manufacturers operate on thin profit margins and replace workers with machines. Rising wages in eastern cities, meanwhile, give Chongqing a competitive edge. Monthly manufacturing wages of about 1,250 yuan are well below the rate of 2,000 yuan in developed provinces, according to data compiled by Bloomberg News.
To read a profile of China's biggest provincial economy, click here.

Still, Chongqing hasn't been immune to the broader slowdown. After luring more than $10 billion in foreign capital annually over the past five years, investment dropped 10.9 percent last year from 2014. Export growth here is also slowing.
Such mild growing pains are problems other provinces might envy. The question for them: is Chongqing's mix of state-directed, catch-up growth that's so entwined with its river and rail links instructive, or a unique confluence that can't be replicated.
For Peng, who's watched the wooden houses that used to cling to the riverbank cliffs give way to steel-and-glass skyscrapers, there's still room for growth. He plans to spend $100 million to build four ships in the next three years, adding to the seven he already has.
Through the generations, Chongqing locals have "depended on the Yangtze waters," he said. On that score at least, not much has changed.
In a series of provincial profiles this week, Bloomberg News explores the varying economic challenges confronting different parts of China.
---

Here's a snapshot of the forces reshaping this continent-sized country
---
— With assistance by Xiaoqing Pi, and Jeff Kearns
Before it's here, it's on the Bloomberg Terminal.
LEARN MORE