Looking for Signals on Brexit Vote? Try Zloty and Forint Trading
by and
Zloty, forint outperform as polls show Britons favor EU exit

Raiffeisen says investors poised to short region's currencies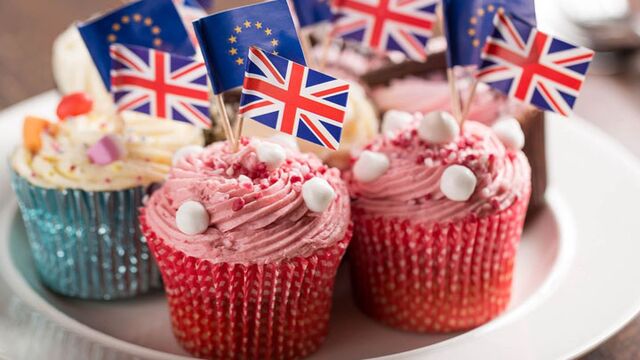 Investors betting on Brexit may want to keep an eye on eastern European currencies, because Poland and Hungary stand to lose a bulwark of financial and political support from a British departure from the European Union.
QuickTake Will Britain Leave the EU?
And by that measure, it looks like Britain will vote to stay in the 28-nation bloc in the June 23 referendum. Poland's zloty and Hungary's forint were among the top gainers of emerging currencies against the euro in the past week, even after three surveys published on Monday showed Britons favor an exit.
"It can be considered as one of the gauges of market perception although there will be some noise," said Simon Quijano-Evans, chief emerging-market strategist at Commerzbank AG in London, who downgraded bonds of Poland, Hungary and Croatia in April on Brexit risks. "Currently most asset classes seem to be pricing out a Brexit scenario."

The calm in the currencies of post-communist bloc countries could quickly turn to turmoil because a British departure from the EU would throw into jeopardy its contribution to an EU budget that has supported the economies of Poland, Hungary, Romania and Czech Republic. Britain was the third-largest contributor to the EU budget in 2015 with a net contribution of 10.9 billion euros ($12.4 billion) and Poland is scheduled to be the biggest recipient among the bloc's 28 members through 2020.
"Currencies and bonds of eurozone periphery countries rather than the U.K. would be most at risk after a potential Brexit," said Peter Duronelly, strategist and money manager at Aegon's fund unit in Budapest, which oversees 2.5 billion euros of assets.
The U.K.'s support for eastern EU countries dates back to before the bloc expanded in 2004, when the British government was the flag bearer for taking in the countries that were once behind the Iron Curtain. Those alliances have continued, with the U.K. often supporting eastern nations in the face of euro area dominance in EU decision-making, and providing a counter-balance to the attempts of western European governments that want to knit the bloc more closely together.
Impact Contained
Many investors are skeptical poll findings will be borne out, while others say even if Brexit prevails, the impact would be contained to the U.K. and the implementation would take years.
"Negotiations will take years and it is always possible that there would be a new referendum, if the U.K. economy would start to suffer too much," said Hertta Alava, the head of emerging markets at FIM Asset Management Ltd. in Helsinki, who isn't hedging her positions for Brexit risks.
The zloty and forint had both strengthened 0.93 percent against the euro in the five days through Monday, even as the pound lost 3.2 percent. A YouGov poll for ITV found 45 percent would choose "Leave" at the June 23 referendum, compared with 41 percent picking "Remain." A separate survey by TNS showed 43 percent for "Leave" and 41 percent for "Remain."
Opposing Forces
The results coincided with a rally in riskier assets on the back of a U.S. jobs report on Friday that showed employers added fewer jobs than economists were anticipating last month. Once the effect of the data wears off, assets in emerging Europe could come under pressure, according to Gregory Saichin at Allianz Global Investors Europe GmbH in London.
While the zloty advances, Polish local currency bonds are among the worst performers in emerging markets since the start of the quarter, losing 4 percent in dollar terms since March 31. That compares with a 1.1 percent decline in a Bloomberg index of peers.
"If anything in the market should react on recent polls, it should be eastern Europe," said Christian Mejrup, a money manager at Global Evolution A/S, which oversees $3 billion in assets, in Kolding, Denmark, who has an underweight position in the region's debt. "There is a risk in the market that it's perhaps a little too complacent."
Before it's here, it's on the Bloomberg Terminal.
LEARN MORE