Brazil's Second-Biggest Bank Seen Needing $7 Billion Rescue Plan
by and
A capital injection at Caixa is inevitable, analysts say

Rescue costs could widen nation's record budget deficit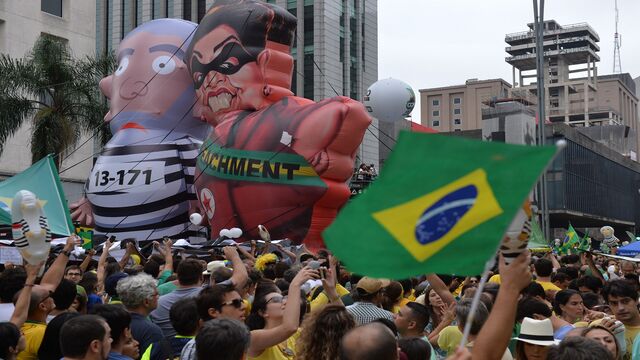 In his first month as Brazil's acting president, Michel Temer has wrestled with a record budget deficit, rising debt, corruption scandals and the Zika virus. He may want to pencil in some time for a multibillion-dollar rescue of the nation's second-biggest bank.
Caixa Economica Federal, the state-owned lender Brazil leans on to help stimulate the economy, will require an injection of funds from the government in the next 12 to 18 months, analysts who've studied its balance sheet say. The worst recession in a century has savaged the Brasilia-based company's loan portfolio, with delinquency and default rates rising just as new regulatory rules push capital requirements higher.

The bank may need as much as 25 billion reais ($7 billion), or about 2 percent of the government's 2015 revenue, according to one private-sector banking analyst. Expect that bill to come due in the next year and a half, the analyst said, asking not to be identified discussing estimates that haven't been made public.
"Capital is the main concern at this point," Arjun Bowry, an analyst at Bloomberg Intelligence, said in an interview. "Over the past year, Caixa's common equity Tier 1 ratio has declined by 130 basis points. It's not sustainable."
For a QuickTake explainer on Brazil's recent highs and lows, click here.
Bowry said an expected rate cut by the central bank is likely to crimp growth in net interest income this year, while fee income is coming in below full-year guidance. Asset sales won't make a significant dent in the bank's capital needs, he said.
One option under review would be to transfer some of Caixa's businesses to the country's other state-owned lender, Banco do Brasil SA, according to a person with knowledge of the deliberations who said the proposals are still very preliminary. Under one plan, Caixa would continue offering several of its current lines of businesses, including mortgages, and transfer to Banco do Brasil operations such as corporate lending, the person said, asking not to be identified discussing proposals that haven't been made public. Exame magazine last week reported that a plan to shift some assets to Banco do Brasil was being considered.
Caixa Chief Executive Officer Gilberto Occhi, who took over June 1, said after his swearing-in ceremony that he sees no need for a capital injection in the short or medium term. Occhi said he plans to find new funding sources for the bank, such as securitizations.
An official at the company declined to comment on analysts' projections on the need for a rescue or on the proposal to shift some businesses to Banco do Brasil.
For a story examining Caixa's recent loan growth, click here.
Many of Caixa's borrowers are late on payments as they grapple with rising unemployment and high interest rates. Debt not earmarked for a specific purpose that's more than 90 days overdue rose in April to 5.7 percent of the total outstanding in the Brazil financial system, the highest level since records began five years ago, according to the central bank. A two-year economic downturn, falling commodity prices and a weaker currency have hurt corporate profits and revenue, forcing job cuts.
Adding to financial pressure on Caixa caused by the recession is the nation's implementation of Basel III capital-adequacy rules for the banking industry. They require more Tier 1 capital for a "conservation buffer," a "counter-cyclical buffer" and another increase for systemically important financial institutions such as Caixa.
Earnings Potential
"Caixa will have trouble expanding its capital because it has low potential to generate earnings," Natalia Corfield, head of Latin America corporate credit research for JPMorgan Chase & Co., said in an interview. "Being part of many social government programs, it charges less than other banks and at the same time has a heavier cost structure." 
Corfield estimates Caixa needs to raise 10.6 billion reais in 2018 to have a Tier 1 capital ratio of 9 percent by 2018.
President Dilma Rousseff, suspended last month amid an impeachment inquiry, pressured Caixa and Banco do Brasil, the nation's biggest bank by assets, to help stimulate the economy by offering lower interest rates on loans. The push to expand lending helped contribute to a decline in Banco do Brasil's common equity Tier 1 ratio, which dropped to 8.3 percent in the first quarter from 8.7 percent a year earlier, according to its earnings statement. In February, the bank cut its dividend payout to 25 percent from 40 percent to help boost capital.
Capital Needs
Analysts at Deutsche Bank AG estimate Banco do Brasil will need to raise 8.8 billion reais in additional capital to achieve a 9.5 percent Tier 1 ratio by 2019, according to a February report to clients. 
"They both face the same issues in terms of declining capital ratios and lower profitability," Bowry said of the two banks.
A Banco do Brasil press official declined to comment about capital needs or proposals to absorb some of Caixa's businesses.
Caixa's non-performing loan ratio rose to 3.55 percent in the first three months of 2016 from 2.85 percent a year earlier, according to its earnings statement. The first-quarter ratio was 3.81 percent when adjusted for a 2 billion-real sale of distressed loans, according to calculations by Corfield.
The bank has options beyond just government handouts to deal with capital requirements, Corfield said, pointing to proposals for an initial public equity offering of the firm's insurance business as well as a sale of its concession for the national lottery. 
Bank Deleveraging
"There is no imminent need," she said. "The new government is giving positive signs as it's talking about public banks deleveraging, and that's positive for them."
Caixa's loan portfolio rose 9 percent to 684.2 billion reais at the end of the first quarter from a year earlier as it complied with government pressure to boost lending. Its market share increased to 21.5 percent, up 1.2 percentage points, according to the bank's financial statements.
"This 9 percent represents a credit-growth deceleration from previous quarters but still remains above the system's average as of March 2016, of 3.3 percent," Corfield said.
Caixa's guidance for loan growth of 7 percent to 11 percent this year is still high given prospects for the economy, according to Corfield.
Less Diversified
Real estate loans continued to show the most growth, expanding 9.8 percent in 12 months to 388.9 billion reais outstanding, or 67 percent of the total market, according to the bank's financial statements. For analysts, that means Caixa has a less diversified portfolio, which makes it harder to generate profits. About 56 percent of the total credit portfolio is mortgages.
Other capital needs loom. Caixa guaranteed the FGTS retirement fund's 2.5 billion-real investment in Sete Brasil Participacoes SA, which filed for bankruptcy protection in April. If that doesn't get repaid, the government will have to inject funds into Caixa to support the company, Mansueto Almeida, an economic consultant who specializes in public finance, said April 28 at an event in Rio de Janeiro, before he joined the government as secretary for economic monitoring last month.
"If you take 100 market analysts, 99 are betting that a capital injection for Caixa Economica will be necessary," Almeida said at the time. "The only one who isn't making that bet is on vacation." Reached a week after taking his new government job, Almeida declined to say if he stands by that prediction.
Before it's here, it's on the Bloomberg Terminal.
LEARN MORE