Boom-Bust in China's Equity Market Leaves an Economic Hangover
by and
Surge in share trading cushioned growth through 2015

Stock-market slump weighs on financial services industry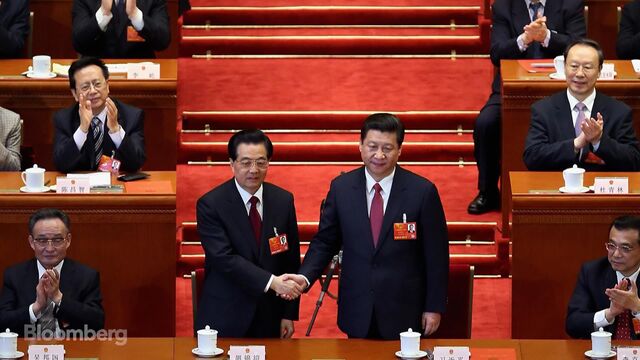 As China's stock market boomed in early 2015, financial services provided a fillip to an ailing economy.
What a difference a year makes: share trading is down more than 80 percent and the number of companies selling stock for the first time has plunged 65 percent. The fading impact on growth from the nation's financial sector is adding to a list of economic headaches that includes weak demand for exports and a glut of spare capacity in the steel and coal industries.  
"In order for you to have more growth on top of what already happened last year you'll have to have another stock-market boom, and you're not having that," said Andrew Batson, a Beijing-based economist at consultancy GaveKal Dragonomics. "That's one of the reasons why growth in financial services activities is slower this year."
Last year, the financial sector accounted for 1.2 percentage points of the 6.9 percent growth in the $10-trillion plus economy, according to Bloomberg Intelligence. In the first quarter of 2016, that contribution shrank to 0.8 percentage points. That figure may have dropped further in the second quarter compared with a year earlier, when the stock market reached its peak, according to BI.

The Shanghai Composite Index reached a seven-year high on June 12 last year as a monetary easing cycle that began in late 2014 propelled a rush of cash into equities. Within a month, the index plunged more than 30 percent, prompting the government to deploy drastic steps including a ban on sales by major shareholders and direct share purchases by a state agency. As leveraged mom and pop investors threw in the towel, turnover has fallen to levels not seen since 2014.
The Shanghai gauge rose 0.1 percent at the close, lagging behind a 1 percent advance by the MSCI Asia Pacific Index.
The slump has also makes it harder for companies to reduce their debt pile, estimated at more than 1 1/2 times GDP, by turning some of those obligations into equity via share sales.

The financial services industry will remain a growth driver over the longer term as rising household incomes boost demand for insurance, wealth management product sales and online payments. The sector accounted for more than 9 percent of the economy's size in the first half of 2015, from under 5 percent in the first quarter of 2007, according to the Peterson Institute for International Economics.
QuickTake China's Managed Market
"We're still at a stage where you should see financial sector growth faster than GDP growth because of increasing financial sophistication and client demand," said Hou Wei, a Hong Kong-based analyst at Sanford C. Bernstein & Co.
Still, a revival in the stock market is unlikely any time soon, with policy makers flagging a new vigilance on reining in debt and financial risks. Analysts expect China's economy to slow through the year, growing 6.6 percent in the second quarter from a year earlier, 6.5 percent in the third, and 6.4 percent in the fourth, according to estimates compiled by Bloomberg.
"The softer equity market may slow China's progress in re-balancing the economy and transforming the growth model," said Harrison Hu, the chief Greater China economist at Royal Bank of Scotland Plc in Singapore. "At least for this year, it's going to be a drag on GDP growth."
Watch Next: Could Total Losses for China's Banks Hit 8T Yuan?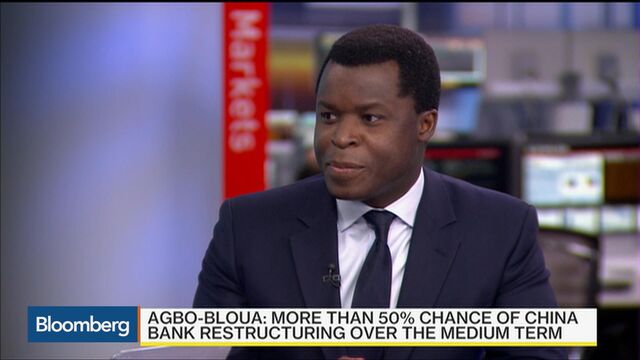 Before it's here, it's on the Bloomberg Terminal.
LEARN MORE