World's Biggest Wealth Fund Faces Dividend Hit After Oil Slump
by
Statoil scrip dividend set to reduce government cash payout

Planned withdrawal from fund doesn't account for shortfall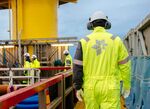 Norway's first-ever withdrawal from its $860 billion sovereign wealth fund may be bigger than planned.
Here's why: The government has yet to account for a potential decline in payouts from Statoil ASA, of which it owns 67 percent. The oil producer has introduced a scrip dividend, allowing investors to take stock in-lieu of cash. Norway has committed to keeping its stake intact and will have to accept shares in the same proportion as other owners, meaning its cash payout will be reduced.
This possibility wasn't apparent in Norway's revised budget published last month, with the government estimating an unchanged income inflow this year of 15.4 billion kroner ($1.9 billion). Less income means more pressure on Norway to increase withdrawals from the wealth fund than the 84.2 billion kroner already flagged.
The extent of those adjustments may be revealed by the end of the week as the subscription period for new shares issued for the fourth-quarter dividend ends on June 10. Analysts say a large proportion of shareholders will probably opt for stock given the 5 percent price discount.
"Everyone should take the scrip, it's a no-brainer," said Teodor Sveen Nilsen, an analyst at Swedbank AB in Oslo. "I'd be very surprised if less than 70 percent of the shareholders opt for it."
A smaller Statoil dividend may impact the "net transfer between the fund and the state budget," Paal Bjoernestad, state secretary at the Finance Ministry, said in an e-mail. The government will adjust the budget once it has the details on the scrip program, he said. Norway's overall budget is unlikely to be affected, he said.
The collapse of oil prices since 2014 has put Norway at a crossroads, forcing the government to make its first withdrawal from the fund some two decades after it was created. The Conservative-led administration last year initially expected to withdraw less than 4 billion kroner, but raised that forecast more than 20-fold in May.
If Swedbank's Sveen Nilsen is right, and cash payouts are reduced by at least 70 percent, the government's income would sink by about $987 million this year, or 8.2 billion kroner -- potentially increasing withdrawals from the wealth fund by a similar amount.
Christian Yggeseth, an analyst at Arctic Securities, anticipates that more than 50 percent will opt for the scrip.
Statoil has cut investments by 35 percent from a peak of $20 billion in 2014 after oil prices sank. The company introduced the scrip dividend in a bid to further bolster cash flow while avoiding cutting payouts outright. The board intends to maintain the amount at 22 cents a share for all dividends payable in 2016, Statoil has said.

One thing that could reduce the government's reliance on withdrawals from the wealth fund is this year's recovery in oil prices. Crude has surged almost 80 percent since January, with Brent reaching $50 a barrel this month. The Norwegian government has based its budget calculation on an average price of about $42 a barrel for 2016. So far this year, Brent has averaged about $40.
But Norway's wealth fund, unlike its counterparts elsewhere in the world, isn't about to start selling assets to cover state withdrawals. It has an estimated cash flow from dividends, interest payments on bonds and rental income from property investments of about 200 billion kroner this year.
Before it's here, it's on the Bloomberg Terminal.
LEARN MORE