Tiny State With Veto History Says Stay Neutral on Asia Spat
by
Cambodia says Asean will keep 'centrality' on South China Sea

Cambodia vetoed Asean leaders statement in 2012 meeting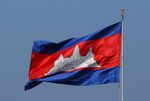 A tiny Southeast Asian nation that in 2012 torpedoed a regional leaders' statement on the South China Sea now says those countries won't take sides in the disputes with China over the waterway.
"Asean tries to keep centrality," Vuth Reth, assistant to Cambodia's Deputy Prime Minister Tea Banh, said on Sunday, referring to the 10-member Association of Southeast Asian Nations.
QuickTake Territorial Disputes
"We don't say we tend to this side or that side," Reth said in an interview on the sidelines of the Shangri-La security dialogue in Singapore.
Reth's comments come as a Hague arbitration tribunal is expected to rule within weeks on a Philippine challenge to China's territorial claims in the South China Sea.
China, Asean's biggest trading partner, contests more than 80 percent of the waterway and has built some military infrastructure and reclaimed 3,000 acres of land in the past few years. Asean countries including Vietnam and the Philippines have overlapping claims in the area, through which more than $5 trillion in seaborne trade passes every year.
"Everything moves along and everyone agrees with what is the result," Reth said. "Peace and prosperity will follow with that."
Indonesian Defense Minister Ryamizard Ryacudu echoed Reth's comments on not picking sides in the dispute.
"Indonesia's position is that we will stand impartial and neutral on this issue," Ryacudu said on the sidelines of the forum. "In the interest of Indonesia, we would like to find and expedite the process to find a solution to the South China Sea. That's the most important position of Indonesia."
For a graphic on China's military rise in Asia, click here
Asean works as a bloc on the basis of consensus and has yet to establish a code of conduct with China for the South China Sea. While it has called for tensions to be lowered in the waters, it has never referenced China in its statements.
Indeed in 2012, Asean failed to reach common ground on the South China Sea issue, ending a regional conference without a joint statement -- the first in its 45-year history. Cambodia held the rotating chair of Asean that year.
After the meeting collapsed, Cambodia denied it had fallen prey to pressure from China to avoid raising the issue in the statement. China had warned nations beforehand to not mention the territorial spats.
China has in recent months sought to canvass support within Southeast Asia for its position on the South China Sea, emphasizing that even as it opposes the Philippines' legal challenge, it stands for cooperation and peace.
Wooing Nations
Ahead of the arbitration ruling, its diplomats have made trips to nations in the region and met with senior officials from countries including Cambodia and Laos, which holds the Asean chair this year.
Chinese Admiral Sun Jianguo said at the forum in Singapore on Sunday that territorial disputes haven't impeded freedom of navigation in the waterway. The U.S. has been conducting freedom of navigation operations in the South China Sea, with its Navy sailing ships near reefs claimed by countries including China.
"How can other people rather than your own homeowner play around in your house, if I may say," Reth said of the China-U.S. tensions. "It's like a thief."
Who's the thief?
"I know and you know," Reth said, laughing.
Before it's here, it's on the Bloomberg Terminal.
LEARN MORE