Saudi Arabia Races Through Financial Toolkit to Raise Funds
by and
Kingdom raised $10 billion loan and may sell $15 billion bonds

Real sense of urgency to raise funds amid low oil: VTB's Agha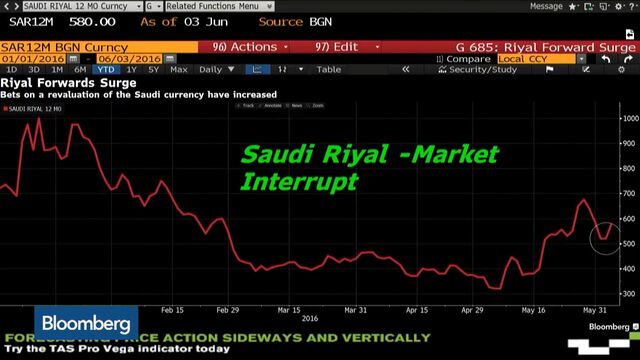 Saudi Arabia's plans to bolster its finances are taking on a new sense of urgency as lower oil prices put the economy under more strain than at any other time in the past decade.
In recent weeks, the kingdom raised a $10 billion loan, clamped down on currency speculators and informed banks of plans to raise as much as $15 billion in its first international bond sale, people with knowledge of the matter said. It's also said to be contemplating IOUs to pay contractor bills and hired HSBC Holdings Plc banker Fahad Al Saif to set up a new debt office.
The speed of the measures underscores Deputy Crown Prince Mohammed bin Salman's urgency to shore up the country's finances as an era of oil-fueled abundance falters. Though currency reserves remain strong -- among the world's largest -- net foreign assets are at a four-year low after declining for 15 months in a row and the kingdom may post a budget deficit of about 13.5 percent of economic output this year.
"The pace of the decline in Saudi Arabia's foreign assets is faster than in previous oil downturns and the period over which they've been falling is longer," Raza Agha, VTB Capital's chief economist for the Middle East and Africa, said by e-mail. "This generates a real sense of urgency to get the ball rolling in raising external funding."
Hydrocarbon Windfall
Five years ago, oil surged to more than $100 a barrel, adding billions of dollars to the country's reserves. The windfall allowed the kingdom to slash its debt and post an average budget surplus of 8.2 percent between 2000 and 2012, according to International Monetary Fund data. Now, with crude having tumbled about 50 percent, the country is moving to sell assets and find other ways to raise funds.
Net foreign assets at the central bank fell 1.1 percent to $572 billion in April after slumping by $115 billion in 2015, when the kingdom ran a budget deficit of nearly $100 billion. Holdings in U.S. stocks slumped to $52.4 billion in June 2015, from about $78 billion a year earlier, according to a report from the U.S. Treasury Department.

The next step is turning to the international markets for funding. In April, it sealed a $10 billion loan -- its first in at least 15 years -- from a group of U.S., European, Japanese and Chinese banks, people familiar with the matter said at the time. It's also weighing the sale of as much as $15 billion of bonds this year, separate people said last week.
"Saudi has many options to finance its fiscal gap and it is using all means at its disposal to do that," said Philippe Dauba-Pantanacce, a senior economist and global political analyst at Standard Chartered Plc in London. "After years of absence from the bond market, Saudi Arabia is coming back, not only out of strict financial needs but because it fits into a wider reformist vision."
That vision is the brainchild of the deputy crown prince, whose ambitions for the country include creating the world's largest sovereign wealth fund and reducing its dependency on oil revenue. He's also planning an initial public offering of Saudi Arabian Oil Co., which he said could value the company at more than $2 trillion, and may break up state-owned utility Saudi Electricity Co. into four independent power generating companies.
The country plans to unveil details of its National Transformation Program from today. The program is the kingdom's blueprint for a post-oil era.
Unusual Measures

In addition to the loan and bond sales, Saudi Arabia is also looking at less conventional methods to help absorb the shock of lower oil prices.
The country is considering IOUs to pay outstanding bills with contractors and conserve cash, people briefed on the discussions said last month. As payment from the state, contractors would receive bond-like instruments which they could hold until maturity or sell on to banks. Companies have received some payments in cash and the rest could come in the "I-owe-you" notes, the people said.
The kingdom has delayed payments to government contractors working on infrastructure projects for six months or more as the government seeks to preserve cash, people aware of the matter said in October. Delays increased last year and the government has also been seeking to cut prices on contracts, the people said.
The Ministry of Economy and Planning may also set up a unit to pull together public-private partnerships to help the government cut costs and improve efficiency, people said last month. The division would aim to boost the role of the private sector in planning, financing and delivering projects and services for the government, they said.
Currency Speculation
Authorities are also taking steps to protect the currency regime amid speculation the country will have to abandon the riyal's three-decade-old peg to the U.S. dollar. Last week, the Saudi Arabia Monetary Agency ordered banks to stop selling dollar-riyal forward structured contracts immediately, following a similar order in January, people aware of the matter said.
Among those betting that the peg may not endure are U.S. hedge funds. PointState Capital's Zach Schreiber, who made $1 billion betting against oil two years ago, is wagering that weaker long-term crude prices and rising costs will cause the country to abandon the peg. Pershing Square Capital Management has made similar bets.
As Saudi Arabia undergoes a shakeup under the deputy crown prince and the government navigates the worst economic slowdown since the financial crisis, further measures could be introduced, according to some analysts.
"There is a general recognition that the old way of running the country has run out of steam and oil is not going back to where it was a few years ago," said James Reeve, deputy chief economist at Samba Financial Group. "This is creating a lot of momentum to drive and sustain this reform process."
Before it's here, it's on the Bloomberg Terminal.
LEARN MORE