Raggi's Populist Surge Leads Rome Mayoral Race Ahead of Run-Off
by and
Second round likely with Renzi PD party candidate Giachetti

Raggi could become city's first female mayor later this month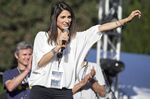 The anti-establishment Five Star Movement's Virginia Raggi leads the first round of local elections in Rome and may become the city's first female mayor in a run-off later this month, the latest sign of a populist surge across Europe, preliminary results show.
Raggi got 35.4 percent of the vote against 24.8 percent for her closest rival, Roberto Giachetti of Prime Minister Matteo Renzi's Democratic Party, according to preliminary counting of votes in more than 90 percent of polling stations. If the final results confirm that no candidate got more than half of the vote, Raggi, 37, and Giachetti, 55, will face-off in a second round on June 19.
Thirteen million voters were called to the polls on Sunday in cities across the country. A victory in Rome would hand the Five Star's euro-skeptics their biggest win yet dealing a blow to Renzi's efforts to convince Italians he can make good on his pledge to end years of stagnation. The Five Star also unexpectedly got more than 30 percent in Turin, making its candidate Chiara Appendino the second most voted after PD incumbent mayor Piero Fassino who had almost 42 percent, with votes in almost all polling stations counted.
PD candidate Giuseppe Sala holds a narrow lead in Milan, ahead of Stefano Parisi who is backed by former premier Silvio Berlusconi's Forza Italia party and the Northern League, with votes counted in more than 90 percent of polling stations. Renzi's candidate in Naples was third, failing to qualify for the second round of voting, preliminary results show.
Local government has become fertile ground for Europe's anti-establishment forces. In Germany, the anti-euro Alternative for Germany has won seats in eight of the country's 16 state assemblies three years after it was set up. In France, the National Front has won control of several towns while Podemos runs Spain's two biggest cities.
Those movements are all attracting voters "who want to take back control of their lives," Raggi said in an interview last week.
Lead Narrows
The next general election is scheduled for 2018. While Renzi's PD is still the most popular party more than two years after he took office, its lead is narrowing. An opinion poll by the Ixe Institute last month credited the PD with 30.5 percent of the vote, compared with the 40.8 percent it won in the 2014 European election. Five Star received 28.1 percent while the anti-immigration Northern League had 14.8 percent.
In the Italian capital, the chaos of traffic, public transport and rubbish collection, as well as corruption and abysmal administration, fueled a backlash against anyone in power. Raggi wants to overhaul the local government, institute tight checks on public contracts, slap more fines on drivers who double-park, buy hybrid electric buses, and deploy ticket collectors. More than a quarter of passengers ride buses in Rome without paying the fare.
Before it's here, it's on the Bloomberg Terminal.
LEARN MORE