business
Japan Banks Cut Bonds, Keep Cash on Negative Rates
By and
Banks' JGB holdings drop 5.5% in April, as reserves rise 3.4%

Weak demand means 'no one to lend to,' says NLI Research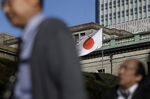 Negative interest-rate stimulus is half working in Japan, as lenders cut government bond holdings by the most in almost three years, only to hoard proceeds at the central bank.
Japanese government bonds owned by banks fell 5.5 percent in April from a month earlier, the fastest pace since June 2013, as most yields slumped below zero, Bank of Japan data show. Their deposits at the BOJ, where only a small part of reserves are charged fees, rose 3.4 percent in the period. That doesn't bode well for loan growth now riding near a three-year low.
QuickTake Negative Interest Rates
"Banks aren't rolling over JGBs as they mature, because of negative interest rates," said Yoshinobu Yamada, a senior analyst at Deutsche Bank AG in Tokyo. "Funds are generally ending up in the macro balance at the central bank, which carries a zero percent rate."

Japanese banks' holdings of JGBs slumped by about 43 percent since Kuroda began bond-buying stimulus in 2013, reaching 94.7 trillion yen ($887 billion) in April, the lowest level since December 2008. With businesses and households still reluctant to borrow and spend, excess funds are flowing back to lenders' accounts at the BOJ, where a three-tiered rate system is allowing them to park most new spare cash at zero percent.
"Companies see the introduction of negative rates as a sign of how bad the economy is," Deutsche Bank's Yamada said. "The reality is that rather than improving the economy, it's worsening the sentiment of business owners."
For more on the Bank of Japan's bond-buying program, click here.
To be sure, the increase in lenders' reserves is a natural consequence of the central bank's policy of pumping 80 trillion yen into the financial system each year. Banks' current accounts have ballooned five times since BOJ Governor Haruhiko Kuroda began his plan to buy JGBs on an unprecedented scale in April 2013 to defeat deflation.
Under the three-tier system, most of banks' 276 trillion yen in reserves are still collecting 0.1 percent interest, while the portion subject to negative rates is between 10 trillion yen to 30 trillion yen, according to the BOJ. That leaves the third tier -- called the macro add-on balance, where zero rates are applied -- growing the most. The macro balance expanded 68 percent to 45 trillion yen in April from March.

The central bank held a near-record 315 trillion yen of the securities as of May 20, almost a third of Japan's public debt.
Holdings at so-called city banks -- major lenders including Mitsubishi UFJ Financial Group Inc., Sumitomo Mitsui Financial Group Inc. and Mizuho Financial Group Inc. -- dropped 8.8 percent in April from a month earlier, the central bank's figures showed.
BOJ Trade
Rather than pursuing investments in other assets, banks will prefer to park money in their BOJ accounts until they find bonds to buy in the market and then sell back to the monetary authority for a profit, said Yasuhide Yajima, chief economist at NLI Research Institute in Tokyo. Foreign bonds are unattractive because of low interest rates abroad and concerns that the yen will continue to appreciate, he added.
Japan's currency surged 2.2 percent against the dollar on Friday after weaker-than-expected U.S. jobs data reduced speculation that the Federal Reserve will raise interest rates soon. The yen has gained more than 12 percent this year and traded at 106.71 as of 9:43 a.m. in Tokyo.
Banks having fewer JGBs reduces the risk of losses if interest rates climb. Bond yields may increase due to rising sovereign risk following the government's decision to delay a planned sales tax increase, Bloomberg Intelligence Senior Analyst Francis Chan wrote in a note on June 1. With borrowings at more than twice the size of the economy, Japan has the heaviest public debt burden in the developed world.
Left Vulnerable
At the same time, banks are moving toward longer-dated bonds in search of positive yields, leaving them vulnerable to a sudden spike in interest rates similar to 2003, BOJ board member Takehiro Sato said in a speech on June 2.
In 2003, 10-year yields surged from about 0.4 percent to 1.7 percent in three months, violating banks' internal restrictions based on the value-at-risk model for estimating potential bond losses. That triggered a further sell-off that became known as a VaR shock. So far there isn't any sign of a repeat, with 10-year bond yields falling 1.5 basis points to minus 0.12 percent on Monday morning in Tokyo.
"There's no question" that maturing government bonds are ending up as cash at the central bank, said Yajima at NLI Research. "There's only a certain amount of risk assets that banks can buy given the strict capital regulations, and there's no one to lend to because there's no domestic demand."
Before it's here, it's on the Bloomberg Terminal.
LEARN MORE