Merkel Faces Tough Choices in Possible German President Vote
by
Schaeuble mooted by CDU lawmaker for mostly ceremonial post

Next federal election casts early shadow amid speculation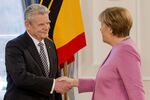 Chancellor Angela Merkel's election season is starting early with a possible chance to propose Germany's next president, after a newspaper reported that incumbent Joachim Gauck won't seek a second term.
One lawmaker from Merkel's Christian Democratic Union was quoted as suggesting Finance Minister Wolfgang Schaeuble for the post, which is largely ceremonial and would be filled by a federal assembly next February if Gauck does indeed bow out. That scenario would free up Merkel to revamp her cabinet before parliamentary elections due by the fall of 2017. Gauck plans to make an announcement at noon in Berlin, his office said.
Schaeuble "has done an excellent job in high government offices and also enjoys a great reputation internationally," Wolfgang Bosbach, a six-term CDU lawmaker, told the Sunday newspaper Bild am Sonntag, which also reported Gauck's intention to stand aside. "Even our political competition will find it hard to deny that."
While it's early days and Merkel hasn't confirmed she'll seek a fourth term as chancellor, German presidential ballots are usually parsed for domestic political messaging. Speculation is already under way whether the CDU and its Bavarian sister party, the Christian Social Union, would agree on a joint candidate after public spats over refugee policy. There is also talk of the Social Democrats, Merkel's junior partner in the federal government, fielding a contender together with the opposition Left and Green parties.
The election by a special assembly of lawmakers and state delegates rather than by public vote ensures there will be no populist candidate with any chance of winning.
Merkel's Record
Germany's presidency mostly involves representing the country abroad, though Gauck has also intervened in domestic politics, including on Merkel's handling of the refugee crisis. Gauck, a 76-year-old former pastor without party affiliation, is Germany's first head of state from the country's formerly communist east.
Schaeuble, 73, is the nation's longest-serving lawmaker, the dean of euro-area finance ministers and a decisive pillar of support for Merkel within the CDU after last year's migrant influx eroded her poll ratings. Only two other cabinet members have been with Merkel uninterrupted since she won power in 2005: Defense Minister Ursula von der Leyen and Interior Minister Thomas de Maiziere.
Even so, Schaeuble might struggle to win cross-party support for the non-partisan role after being blamed for aggravating divisions in Europe during the euro-area debt crisis, notably in Greece. What's more, presidential votes haven't always gone Merkel's way. In 2012, she swung behind Gauck only after her original pick for the post, CDU politician Christian Wulff, resigned two years into office.
Coalition Conflict
Filling a presidential vacancy might give Merkel a chance to rebuild unity between her CDU and the smaller CSU, which has criticized her open-border refugee policy for months as too accommodating and a boon for the anti-immigration Alternative for Germany party. Support for the CDU-CSU dropped to 30 percent and the Social Democrats polled 19 percent, both record lows, according to an INSA poll published Tuesday.
Bavarian premier Horst Seehofer, who heads the CSU, sought to rein in the squabbling after talks with Merkel last week. "The chancellor and I have re-established a foundation of trust that we can build on again," Bild am Sonntag quoted him as saying.
Merkel is also facing a challenge as her junior partner seeks to assert its independence before heading into an election year.
"The constant infighting among the Union parties is harming the reputation of the entire government, and even of politics at large," SPD head and Economy Minister Sigmar Gabriel, who also is Merkel's vice chancellor, told a party gathering in Berlin on Sunday. "We Social Democrats have been and will remain a 'Volkspartei' of the left."
Before it's here, it's on the Bloomberg Terminal.
LEARN MORE