Malaysian Opposition Spats Give Premier Najib Breathing Room
by
Opposition cooperation has worsened since elections in 2013

Multiple candidates to vie for by-elections on June 18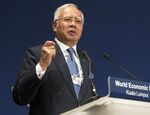 After Malaysia's opposition fielded multiple candidates for some seats in a state election last month, splitting the vote and giving Prime Minister Najib Razak's coalition a bigger majority, they vowed not to repeat it. Four weeks later, they are at it again.
Two opposition groups on Sunday nominated candidates to run against Najib's United Malays National Organisation in two by-elections this month, increasing the chances of UMNO retaining seats it currently holds by a narrow margin. One seat it won in the 2013 general election by just 1.1 percent in a straight fight, the other by less than 4 percent in a three-way race that included an independent.
The opposition infighting shows how its alliance has failed to capitalize on gains made in 2013, when it won the popular vote for the first time. Najib was returned to office despite the worst performance by the ruling coalition in more than five decades in power, helped by the votes of UMNO's voter base -- ethnic Malays.
In the aftermath of the last election the opposition splintered amid policy differences, with one leader in jail and another investigated by the anti-corruption commission. That disarray, combined with decisions to compete against each other, is enabling Najib to weather a year-long donations scandal, multiple probes into a debt-ridden state fund and efforts by a former leader to remove him.
'Already Broken'
"The opposition's back is already broken," said Ibrahim Suffian, an analyst at the Merdeka Center for Opinion Research in Kuala Lumpur. "Despite the scandals, there are no practical means for any political backlash to affect Najib because his opponents have become fragmented and ineffective in mobilizing the public through electoral means."
Parti Islam se-Malaysia, whose conservative faction defeated moderates in internal leadership polls a year ago, left the opposition alliance in 2015. Ties frayed with the mostly ethnic-Chinese Democratic Action Party over efforts to implement the Islamic penal code in a PAS-controlled state. Another group, Parti Amanah Negara is made up of moderates who left PAS last year.
Both PAS and Amanah named candidates for the June 18 by-elections, triggered when deputy plantation minister Noriah Kasnon and Wan Mohammad Khair-il Anuar Wan Ahmad, chairman of the Malaysian Palm Oil Board, were killed in a helicopter crash in Sarawak.  PAS has said the seats have traditionally been contested by it.
For an earlier story on the economic challenges facing Najib, click here
The presence of multiple opposition candidates may skew what would otherwise have been a litmus test of the voter mood on Najib. Confidence among consumers, businesses and investors has faltered amid a slowing economy, global investigations into state fund 1Malaysia Development Bhd., and residual public anger over the implementation last year of a goods and services tax.
Najib has denied wrongdoing and was cleared by the attorney general this year of graft over revelations that $681 million appeared in his accounts before the 2013 vote. The opposition won that election with 51 percent support, though gained fewer seats due to the country's British style first-past-the-post counting system.
Complaints about Najib's leadership on social media forums and among some UMNO chiefs in private have failed to lure voters to the opposition. Chinese voters who flocked to it before 2013 have expressed concern about the possibility of Islamic law in the state of Kelantan.
Splitting Votes
Opposition party leaders have said little in public about their faltering support. Still, the rifts are increasingly apparent.
"It will split the votes of those who disagree with the current administration," PAS vice-president Idris Ahmad was quoted as telling reporters on Sunday, commenting on Amanah's decision to join the race. "However, we are confident and hope that voters will support us and send a strong signal to the government."
Disunity among opposition parties helped hand Barisan Nasional 72 of 82 seats in a state assembly election last month in Sarawak, the country's biggest state. The Democratic Action Party won seven seats, a weaker showing than 2011.
"They just don't learn from past mistakes," said Faisal S. Hazis, head of the Centre for Asia Studies at the National University of Malaysia, of the opposition. "People are just fed up with the bickering."
Even Najib's most vocal critic is exasperated by the opposition infighting. Former premier Mahathir Mohamad led UMNO for two decades and had repeatedly said it cannot win the next election, due before end-2018, with Najib at the helm. After efforts to turn UMNO against Najib failed, he teamed up with political foes to try to force the prime minister out.
'Two Ways'
That soured when his motives were questioned by some in the opposition including Anwar Ibrahim, who was sent to jail again last year for sodomy, a charge he denies. Now, the 90-year-old says the opposition disunity means UMNO is unlikely to be at risk.
"There're only two ways to unseat Najib," Faisal said. "One is through UMNO which Mahathir failed to do. Second is when a united, cohesive and viable opposition coalition wins the next general election. The second option is not what Mahathir is willing to take."
In the meantime, Najib has tightened his grip on UMNO and its divisional chiefs have publicly backed him. Najib is also cementing his hold on power by further wooing the ethnic Malay majority. He has reached out to PAS and proposed the parties work to promote Islam's doctrines, and the opposition group is reacting to his overtures.
At an opening ceremony of a recent PAS youth wing annual meeting, leaders abandoned their usual Arabic robes and came in traditional Malay costumes complete with a Keris -- a dagger regarded as a symbol of the race's supremacy. PAS leader Abdul Hadi Awang said the party will abandon the old political style of opposing for opposing's sake, and will work with anyone who can advance the principles of Islam.
"It's not certain how PAS will reconcile with their former allies," Ibrahim of the Merdeka Center said. Unless they can patch up, "it will be hopeless" for the opposition, he said.
Before it's here, it's on the Bloomberg Terminal.
LEARN MORE