U.S. Stocks Rise as Commodities Rally With Oil at 10-Month High
by and
Bloomberg resources gauge surges into bull market as oil jumps

Treasuries decline for first time in five days on Yellen talk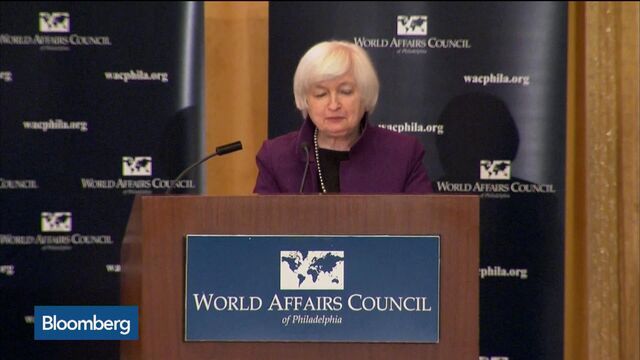 U.S. stocks climbed to a seven-month high and the dollar touched a three-week low as Federal Reserve Chair Janet Yellen reiterated her intention to raise rates only gradually once the economy improves. Commodities rallied into a bull market as crude closed at a 10-month high.
The S&P 500 Index closed at the highest level since November, pushing a four-month rally to 15 percent. Emerging-market equities jumped more than 1 percent to a one-month high, while the weaker dollar bolstered demand for resources denominated in the greenback. The Bloomberg Commodity Index capped a 20 percent rally from a January low to meet the definition of a bull market. Treasuries fell for the first time in five days.
Yellen acknowledged the weakest jobs growth in six years was "disappointing," but said that positive forces in the economy outweigh negative developments, warranting gradual rate increases without specifying their precise timing. The odds for an increase in summer fell to 22 percent after rising past 50 percent last week. Emerging-market assets and commodities benefit from lower U.S interest rates as investors seek higher returns from riskier assets.
"The Fed wants to see at least one more employment situation report to see if the latest was an aberration or the beginning of a new trend," said Brian Jacobsen, chief portfolio strategist with Wells Fargo Funds Management LLC, which oversees $242 billion. "She seems very optimistic and I like that she's outlining the risk to the outlook, but I don't see any further clarity as to whether they're going to hike in July or September."
Markets are being pulled in different directions, with worries over a slowing U.S. economy and British polls weighing on some assets, and a weaker dollar and chances the Fed will keep interest rates lower for longer supporting others.
Stocks
The S&P 500 Index advanced 0.5 percent to 2,109.38 at 4 p.m. in New York, slipping from a 10-month high on a closing basis in the final half hour of trading. Shares fell Friday after the disappointing U.S. jobs data cast doubt on the strength of the world's biggest economy, though the index trimmed losses into the close. The Fed meets next week. 
Lenders rebounded from their worst drop in almost two months, while rising crude prices helped Halliburton Co. climb to its highest in nearly a year and Transocean Ltd. jumped more than 13 percent to lead energy producers to a 2 percent gain. The group closed at the highest since April 27.
"U.S. equities are our most preferred equity market and there's always a slightly counterintuitive thing -- it's the highest quality, it's your safe haven trade," said Patrik Schowitz, global strategist at JPMorgan Asset Management. The firm oversees $1.7 trillion in assets. "If the outlook is a little bit more wobbly, that probably just makes you more positive on the U.S., which we are anyway."
The Stoxx Europe 600 Index advanced 0.3 percent. The U.K.'s FTSE 100 Index climbed the most among major western-European markets, gaining 1 percent, as miners jumped and the pound weakened after the Brexit polls.
The MSCI Emerging Markets Index rose 1.3 percent to a one-month high, advancing for a third day and climbing above its 50-day moving average. Benchmark gauges in Russia and the Philippines jumped over 1 percent. South Korea's market is shut for a holiday.
Commodities
The four-year bear market that pushed commodities to the lowest level in a quarter century came to end as supply constraints drive a recovery in everything from soybeans to zinc. The Bloomberg commodity gauge, which measures returns on raw materials rose 1.1 percent to push its rally from a January low past 20 percent to meet the definition of a bull market.
West Texas Intermediate jumped 2.2 percent to settle at $49.69 a barrel, the highest since July 21. Brent crude added 1.8 percent to $50.55 a barrel, after falling 0.7 percent last week as OPEC refrained from freezing output at a meeting in Vienna.
The global oil surplus is shrinking faster than expected and has the potential to send prices as high as $60 a barrel this year, according to Ali Majed Al Mansoori, chairman of the Abu Dhabi Department of Economic Development.
Gold capped its first back-to-back gain in almost three weeks as investors reconsidered an initial hawkish reading of Yellen's speech. Gold futures for August delivery added 0.4 percent to settle at $1,247.40 an ounce in New York, extending Friday's 2.5 percent advance. That takes this year's gain to 18 percent.
Currencies
The Bloomberg Dollar Spot Index swung between gains and losses after last week's 1.6 percent decline triggered by the jobs report. The greenback was little changed at $1.1367 per euro, after weakening 1.9 percent in the previous session. It rallied 0.7 percent to 107.68 yen, halting a four-day slide.
The MSCI Emerging Markets Currency Index rose 1.1 percent. Indonesia's rupiah climbed 1.6 percent, and Malaysia's ringgit strengthened 1.2 percent. The rand rallied 1.3 percent after South Africa's credit rating was affirmed by S&P Global Markets on Friday.
Bonds
Treasuries gave back some of the gains from last week following the jobs report, when two-year yields fell on June 3 by the most since September. The rate climbed two basis points to 0.79 percent Monday. The yield on 10-year notes rose three basis points to 1.73 percent.
Government bonds from the euro region's high-debt and -deficit nations declined relative to benchmark German bunds with the U.K.'s vote on its European Union membership and Spanish general elections both due this month.
Before it's here, it's on the Bloomberg Terminal.
LEARN MORE