Wall Street's Treasuries Market Bluff Exposed in Auction Retreat
by and
Primary dealers' share slumps to an unprecedented 30%

Retreat comes amid U.S. investigation of pre-auction trading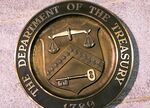 When U.S. officials broached the question of more oversight in Treasuries this year, Wall Street pushed back by pointedly reminding them of the "critical role" it plays in ensuring America's ability to borrow.
Turns out, the firms might be overstating their influence.
Banks known as primary dealers, which trade directly with the Federal Reserve and bid at U.S. debt auctions, have bought just 30 percent of the new securities this year, the smallest share on record, data compiled by Bloomberg show. The 23 firms -- which include JPMorgan Chase & Co., Goldman Sachs Group Inc. and Deutsche Bank AG -- also aren't bidding as aggressively as they once did.
Nobody is disputing that dealers still serve a key function in the market for U.S. debt offerings. But more and more, that role involves serving as a backstop, not an underwriter. While part of it has to do with a surge of investor demand in a world of negative interest rates, changes in the bidding process have made it less profitable for dealers to support auctions. The retreat comes as a U.S. investigation into pre-auction trading of Treasuries zeroes in on many of the biggest players in the $13.4 trillion market.

"They know they have to at least put in bids for a given percent, but that doesn't mean they buy it," especially when they're making less money and face more oversight, said Glen Capelo, who spent over two decades on trading desks at primary dealers such as Salomon Brothers and RBS Securities and is now a managing director at Mischler Financial Group Inc. "They aren't going to play as hard the way they used to, because they have no edge."
For more on the U.S. probe into when-issued Treasuries trading, click here.
Primary dealers facilitate U.S. government borrowing in two ways. They buy debt to complete pre-auction trades that guarantee delivery of new Treasuries to clients at a predetermined price, known as when-issued securities. The firms also bid for their own trading portfolios.
They're the only ones required to bid in auctions, and their ability to do so is "critical to the overall functioning of the U.S. Treasury market and to helping maintain appropriate levels of liquidity in this market," according to a joint letter from the Securities Industry and Financial Markets Association and American Bankers' Association. 
First Survey
When asked to comment, Sifma referred to the letter, which was a response to the Treasury Department's first survey of the market's structure since 1998. Treasury spokesman Rob Runyan declined to comment.
Of the $865 billion of notes and bonds sold by the Treasury Department this year, dealers have purchased just $262 billion, data compiled by Bloomberg show. That's the lowest proportion compared with full-year numbers since at least 2006. Prior to the financial crisis, dealers took down as much as 69 percent of Treasuries on offer, the data show. (T-bills, which come due in a year or less, along with debt the Fed has bought to maintain the size of its Treasury holdings, are excluded).
There's no risk of a failed auction because dealers are still bidding for more than what's on offer, but the data show they've been less eager to do so.
For every dollar the U.S. government has sold to investors and dealers this year, dealers have bid for $1.83 worth of Treasuries, the least since 2009. What's more, they've won a record-low 17 percent of the $1.6 trillion in bids they've submitted.

Investor demand for Treasuries at auction has been staggering, which helps to explain why dealers have ended up with fewer bonds. It's not hard to understand when more than $8 trillion of sovereign debt outside the U.S. yields less than zero and concern about shrinking bond-market liquidity persists.
Investors who submitted bids through dealers have taken down a record 58 percent of auctions this year, versus a 10-year average of 41 percent. Of the $563 billion of bids they've entered this year, they've won 88 percent, the highest in at least a decade.
"The auctions have become a much bigger source of liquidity" for investors, said Blake Gwinn, U.S. rates strategist at RBS. Dealers are only getting "whatever doesn't get taken out by" investors.
Nevertheless, if record investor demand starts to dry up, the reluctance of dealers to bid aggressively could add strain to what some see as a sometimes contentious relationship between the Treasury and its biggest trading partners.
"You would see more pressure from the Treasury," Mischler's Capelo said.
Scheduled Auctions
The Treasury will sell $24 billion of three-year notes on Tuesday, $20 billion of 10-year notes on Wednesday, and $12 billion of 30-year bonds on Thursday.
The role of the primary dealer began to change in 2008. That year, the Treasury introduced a new version of its auction bidding system, and the share of bids that went to the Treasury directly, rather than through Wall Street banks, soared in the following years. The existence of direct bidding, which accounts for between 7 percent and 15 percent of total auction bids each year, has had some unintended consequences.
Dealers can't see those bids, and if they're high enough, they can influence the final auction price. When that happens, dealers often end up selling when-issued securities too cheaply to clients and lose money buying the debt to complete those trades at auction. In May, all six major auctions of U.S. debt sold at higher prices (and lower yields) than levels indicated by pre-auction trading, according to TD Securities.
It's not just a one-off. At the past six auctions of benchmark 10-year Treasuries this year, yields were an average of 0.7 basis points below the when-issued securities, TD found. Between 2000 and 2014, the notes sold at an average 0.2 basis points above, according to Stone & McCarthy Research Associates.
That's been painful for dealers like James Combias, New York-based head of Treasuries trading at Mizuho Securities USA Inc.
"It's a very unprofitable venture for the dealer community to have to participate, and buy them through the market that expensive," he said. "It sucks. We're getting shut out of the process."
Before it's here, it's on the Bloomberg Terminal.
LEARN MORE