China Must Be 'More Adept' at Policy Communication, Lew Says
Bloomberg News
Roiled markets in August show markets confused by PBOC action

Lew speaks in exclusive interview ahead of talks in Beijing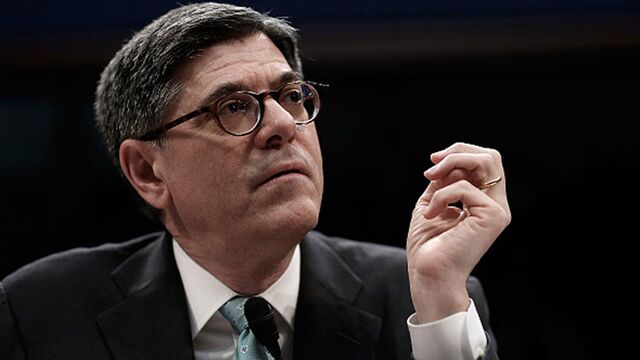 China must improve monetary policy communication as it takes on an increasingly large role in the global economy, U.S. Treasury Secretary Jacob J. Lew said in an interview ahead of talks in Beijing between the two countries.
Market gyrations following the People's Bank of China's decision in August to devalue the yuan reflected "something that was confusing and not well communicated, and it gave rise to fears that China's economy was in a much weaker place than it actually appears to be or was perceived by policy makers to be," Lew said in a Bloomberg Television interview.
The episode underscores the importance of China "becoming more adept at communicating its policy path and its analysis of its own economy, because the world and markets are hanging on what China thinks is going to be the next step in its economy," Lew said.
In a speech on Monday as the U.S.-China Strategic and Economic Dialogue got underway, Lew stuck to that theme, saying he welcomed greater regulatory and data transparency and more open government amid China's shift toward a market-driven economy. "A market-determined exchange rate with two-way flexibility will help foster a more efficient allocation of capital. And continued clear communication of foreign exchange policies and actions will build credibility with financial markets," he said.
Lew and U.S. Secretary of State John Kerry are in Beijing for talks with China Vice Premier Wang Yang and State Councilor Yang Jiechi. The two-day talks aim to foster discussion on key issues for the world's two largest economies.
In the television interview, Lew said he was on vacation when China devalued the yuan, and he spent much of that time on the phone urging China's central bank policy makers to explain what they had done.
Strategic Talks
"When I understood what they perceived their action to be, I immediately said 'that is not what the world saw,"' Lew recalled, adding that after a few days PBOC Deputy Governor Yi Gang offered a clearer explanation "that started to help settle things down" and Governor Zhou Xiaochuan later gave a long interview that explained the views.
The yuan has fallen further since August, posting a five-year low in January and sinking back toward that mark last week in the face of an uncertain economic outlook.
Hard Issues
"The state of the world's economy depends on us each doing well, and that requires us to work through issues, often very hard issues," Lew said. "It's a relationship of necessity."
This week's talks are the eighth and final under President Barack Obama. With U.S. elections months away, it'll be important that a new administration continue to foster a dialogue between the two countries, as "I don't think walking away from that relationship would serve the interests of the United States or the world," Lew said.
Challenges remain on structural reforms in China. Policy makers in the world's most populous nation are attempting to steer the economy toward growth led more by consumers and services and less by manufacturing and exports. At the same time, the U.S. is pushing China to subject its economy to market forces, saying more openness is needed to create a level playing field for companies that want to do business there.
Illustrative of the dynamic is the excess capacity debate. China has been cutting surplus production in sectors including coal and steel while striving to keep growth above their 6.5 percent minimum target for this year.
Excess Capacity
Still, exports of steel from China won't decline significantly from last year's record, Li Xinchuang, president of the country's Metallurgical Planning Institute, said in May. China is already doing its share to reduce the global problem, with proposals to lower capacity by as much as 150 million tons that will put more than half a million people out of work, Li said.
"I don't think that we've seen the implementation yet on policies to deal with excess capacity," Lew said in the interview. Global steel and aluminum markets are being "distorted" by China's excess capacity, and it would have a "corrosive effect on future growth if you let the problem linger," he said. But politically and socially, dislocating workers is a challenge.
Threading Needle
"Threading that needle is hard -- you don't have a choice," Lew said. "If you have excess capacity and you're just kind of grinding down your future potential growth, that's not going to be good for people either. So they made the policy commitment to make these changes, they now have to implement and execute, not just at the national level but at the provincial level as well."
There's a similar push for China to allow its currency to fluctuate more freely, and "compared to where we were just a few years ago, we've seen real progress," Lew said.
"We have very much made clear that we need to make sure that the commitment to moving in an orderly way to more market-determined exchange rates will stay a firm policy as there's up and down pressure, and that it not become a one-way policy in the future," he said.
Lew demurred from discussing U.S. monetary policy, noting that Federal Reserve Vice Chairman Stanley Fischer is in Beijing to meet with his Chinese counterparts. However, he did note general progress in the domestic economy despite "bumps along the way."
"Sometimes you see spikes of good news, but the trend over time has remained very strong, and we would like to do better," Lew said. A June 3 report showed that U.S. economy added just 38,000 jobs in May, the fewest in six years. While the trajectory will need to be watched, the long-term trend is still positive, he said in remarks to students Sunday at Tsinghua University in Beijing.
— With assistance by Victoria Stilwell
Before it's here, it's on the Bloomberg Terminal.
LEARN MORE