Win or Lose, Trump Won't Dent U.S. Business in Asia, Says Wagar
by
U.S. envoy to Singapore says private sector acts on its own

South China Sea a legal issue, not U.S. versus China argument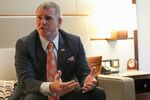 The U.S. private sector will not sever seven decades of investment in Southeast Asia because of who occupies the White House, said U.S. ambassador to Singapore Kirk Wagar.
Acknowledging a high number of inquiries generated by Donald Trump's presidential bid, Wagar said while his country's democratic process was noisy, it had built-in checks and balances.
"The one that is always forgotten is the private sector," Wagar said in an interview on Saturday on the sidelines of the annual Shangri-La security dialogue in Singapore.
Estimating that around 50 million Southeast Asian citizens had either worked for or had interaction with a U.S. company over the last 70 years, Wagar said he did not "think that the CEO of Microsoft, of Facebook or General Motors is going to decide on their investment strategy on whether Barack Obama, Hillary Clinton or Donald Trump are president."
Trump's emergence as the Republican presidential nominee, and his opposition to the 12-nation Trans Pacific Partnership trade pact that's been led by the U.S., has prompted concern among Southeast Asian nations that Obama's Asia rebalancing strategy might be quickly followed by a pivot away, if Trump wins in November.
Lame Duck Session
Clinton, who is still in a race with Bernie Sanders for the Democratic nomination, has also spoken against the pact, which would bind nations in a bloc that currently excludes China. The focus has now turned to attempts to get the agreement ratified by Congress in a brief window after the November vote.
In a speech in Singapore on Friday, U.S. Senator John McCain, who chairs the Senate Armed Services Committee, said there was a possibility the TPP could be ratified then.
"What I do believe is that there is every possibility after this election that we could have a lame duck session Congress," McCain said. "Or, with the proper leadership of the next president of the United States who could marshal sufficient support."
South China Sea
Turning to territorial tensions in the region, Wagar said the prospect of more assertive attempts by China to enforce its claims to more than 80 percent of the South China Sea could damage not just China's economy but growth across the region.
"Economics makes everything else go," Wagar said. "If your country is doing well, and your people are earning a good living and providing for their families, and providing educational opportunities, everything else you want to do becomes a heck of a lot easier."
"This region is where it's at because of the stability that this region has enjoyed for the better part of 70 years," he added. "I don't think there is a single country that has benefited more from that stability than China. So why would China ever want to change that dynamic that has allowed it to rise in a such a dramatic fashion?"
'Great Wall'
U.S. Defense Secretary Ash Carter on Saturday said China risked erecting a "Great Wall of self-isolation" over its actions in the disputed maritime area. The South China Sea carries more than $5 trillion in seaborne trade each year, and has seen China build artificial islands covering more than 3,200 acres.
"There is growing anxiety in this region, and in this room, about China's activities on the seas, in cyberspace, and in the region's airspace," Carter said in a speech to the Shangri-La dialogue. He called China's land reclamation "unprecedented" and urged it rather to join the U.S. in cooperating on security in Asia.
For a graphic on the South China Sea issue, click here
Wagar expressed frustration that the dispute over the South China Sea was regularly cast as an argument between what the U.S. and China believed. The U.S. is not a claimant in the waters but has conducted freedom of navigation operations to challenge the Chinese assertions, sailing navy ships near reefs that Beijing says belong to it.
"This is what the law is," Wagar said. "The ability to fly, sail and operate international waters under international law, is not an American point of view. That is a global point of view."
Before it's here, it's on the Bloomberg Terminal.
LEARN MORE