Poles Protest Democracy Lapse 27 Years After Communism Ended
by
Thousands march in Warsaw for 'freedom, equality, democracy'

Ruling party chief says Poland's sovereignty is threatened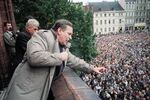 Poles took to the streets to protest against their government amid concerns in Washington and Brussels that their country's leaders are backsliding on democratic values.
The march in Warsaw on Saturday took place on the 27th anniversary of the first freely contested election behind the Iron Curtain, which ushered in the end of communist rule in Poland. It also comes three days after the European Union's executive stepped up its first probe into rule of law of a member country, calling on the Polish government to restore the ability of its highest court to effectively review legislation.
The ruling Law & Justice party, led by Jaroslaw Kaczynski, has fallen out with Poland's allies since winning elections in October as its drive to consolidate power triggered the EU investigation and the sovereign's first credit rating downgrade. Bill Clinton said last month that Poland, long regarded as a model for its embrace of democracy following communism, was sliding toward an "authoritarian dictatorship" like that seen in neighboring Russia, prompting Kaczynski to tell the former U.S. president to go see a doctor.
"Poles were never as united as they were on the day communism ended," said Beata Laciak, a sociology professor at Warsaw University. "This is the symbolic message at this protest -- that people want rule of law and civil liberties and will defend the way of life that was started in 1989."
For a QuickTake explainer on Poland's populist turn, click here
Municipal authorities said about 50,000 people took part in the Warsaw march, while organizers said "picnics" and gatherings were held in 20 other cities. Carrying Poland's red-and-white flags and the EU's blue-and-gold emblems, protesters shouted "freedom, equality, democracy." Police estimated the turnout at around 10,000.
Fighting 'Rebeliions'
The EU's executive expressed misgivings this week because the government hasn't implemented the Constitutional Court's rulings and President Andrzej Duda, a former Law & Justice lawmaker, hasn't sworn in three justices chosen by the previous parliament. European Commission President Jean-Claude Juncker scolded Poland's leaders, saying that "democracy is more than a parliamentary majority. It's also about civil society."
Poland's freely elected government is exercising the will of the people, Law & Justice Prime Minister Beata Szydlo has said. The ruling party is working on a compromise to end the dispute with the EU with another overhaul of the Constitutional Court, legislation that the biggest opposition party said would further erode democratic standards.
Kaczynski, addressing Law & Justice officials in Warsaw, said on Saturday that Poland's independence was threatened and vowed to overcome "rebellions" aimed at undermining his plans to change Poland into a fairer and wealthier country.
"By defending our sovereignty, we defend our right to quick development," he said. "We won't allow Poland to only be pool of cheap labor for our richer neighbors."
'Solidarity Days'
All but one of the parliamentary seats up for grabs in the historic ballot 27 years ago was taken by the anti-Communist opposition in the Solidarity movement, a result that emboldened eastern Europe's democratic efforts and ultimately helped bring down the Berlin Wall five months later. Fast forward a generation, and a group calling itself The Committee in Defense of Democracy, known by its Polish acronym KOD, is organizing protests against a government that has taken over public media, subordinated prosecutors and sidelined the Constitutional Court.
"At KOD events you often meet people who reminisce about their old Solidarity days," Laciak said. "They never expected to be protesting like this again."
Before it's here, it's on the Bloomberg Terminal.
LEARN MORE