China Risks 'Great Wall of Self-Isolation,' Says U.S.
by and
Defense Secretary Carter warns on South China Sea tensions

China, U.S. militaries to cooperate more in coming drill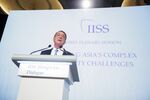 China risks erecting a "Great Wall of self-isolation" in Asia over its actions in the disputed South China Sea, U.S. Defense Secretary Ash Carter told a global defense forum in Singapore.
"There is growing anxiety in this region, and in this room, about China's activities on the seas, in cyberspace, and in the region's airspace," Carter said on Saturday in a speech to the Shangri-La security dialogue. He called China's land reclamation in the South China Sea "unprecedented" and urged it instead to join the U.S. in cooperating on security in Asia.
"Countries across the region have been taking action and voicing concerns publicly and privately, at the highest levels, in regional meetings, and global fora," he said. "As a result, China's actions in the South China Sea are isolating it, at a time when the entire region is coming together and networking. Unfortunately, if these actions continue, China could end up erecting a Great Wall of self-isolation."
China's assertion to a large swath of one of the world's busiest shipping lanes pits it against smaller Southeast Asian states who also claim parts of the South China Sea, through which more than $5 trillion in seaborne trade passes the year. The area has become a flash point for a broader rivalry between China and the U.S. -- which is not a claimant -- in the western Pacific.
In recent years, China has reclaimed more than three thousand acres in the waters and beefed up its military presence, while saying its activities in the area are also designed for civilian purposes like search and rescue. In turn, the U.S. has resumed freedom of navigation operations in the South China Sea, where its ships sail near reefs claimed by China and other nations.
For a graphic on the South China Sea issue, click here
For a QuickTake explainer on China's island policy, click here
The forum comes amid friction over China's actions, with the U.S. accusing two Chinese fighter jets of conducting an unsafe intercept last month of a U.S. surveillance plane in international waters, and with an international tribunal expected to rule soon on a Philippine challenge to China's South China Sea claims.
Still, Carter said the U.S. welcomes China's rise. "We know China's inclusion makes for a stronger network and a more stable, secure, and prosperous region," he said. "In all of our interactions with our Chinese counterparts, the United States consistently encourages China to take actions that uphold –- and do not undercut –- the shared principles that have served so many in Asia-Pacific so well."
'More Conciliatory'
Zhao Xiaozhuo, a senior colonel in the People's Liberation Army, said Carter's tone was "gentler and more low key than I had expected."
"All the countries would of course like to have a security framework in Asia which stresses cooperation and principles," he said on the sidelines of the forum. "That's ideal but the issue is all parties need to understand and accept the principles."
Oh Ei Sun, an analyst at the S. Rajaratnam School of International Studies, agreed the atmosphere at Shangri-La seemed more conciliatory this year. "You can tell there's a willingness to engage each other diplomatically, with less saber-rattling."
Diplomatic Frenzy
Ahead of the Hague ruling, diplomats from China and the U.S. have criss-crossed the region to drum up support for their position, including with Association of Southeast Asian Nations states like Cambodia, Brunei and Laos -- which holds the Asean chair this year.
Chinese ambassadors from the U.K. to Sierra Leone have penned articles explaining its position, alongside paid supplements like one published in the Saturday edition of the Telegraph newspaper in the U.K.
Rear Admiral Guan Youfei, chief of foreign affairs at China's defense ministry, told reporters in Singapore that China had shown restraint on the South China Sea and the U.S. should treat the issue in a more objective way. He singled out the U.S. over its freedom of navigation operations.
"Freedom of navigation should be for the benefits of economic development, rather than sending military aircraft and vessels everywhere," Guan said.
U.S. Allies
Carter for his part used his speech to tout U.S. ties with allies Japan, Australia and the Philippines, plus deepening relations with Singapore and Vietnam, where President Barack Obama lifted a four-decade ban on lethal weapons last month. Carter said he and India's Defence Minister Manohar Parrikar would find new ways to cooperate before Prime Minister Narendra Modi visits Washington next week.
Parrikar told the forum his country is watching the South China Sea tensions with concern.
"All countries in the region need to recognize that our shared prosperity and rate of growth that this region enjoyed for the past decade will be put at risk by aggressive behavior," he said. "All of us will suffer irrespective of whether we are big or small states."
RIMPAC Exercise
Carter said the U.S. and Laos would co-host an informal defense ministers' meeting in Hawaii in September. Obama held a summit with Asean leaders in the U.S. in February.
Meanwhile, China is taking part again in the U.S.-led Rim of the Pacific Exercise this year. Carter said the U.S. and China will sail together from Guam to Hawaii for RIMPAC, conducting seven drills along the way, including one focused on search and rescue.
"I plan, at President Xi's invitation, to discuss this deeper cooperation as well as the concerns I've outlined here, when I travel to Beijing later this year," he said.
In response to a question after his speech, Carter warned China against building on the Scarborough Shoal, a prospect raised by chief of U.S. naval operations Admiral John Richardson in March. The uninhabited shoal was seized from the Philippines in 2012.
"I hope that this development doesn't occur because it will result in actions being taken both by the United States and by others in the region which will have the effect of not only increasing tensions but isolating China," Carter said.
Before it's here, it's on the Bloomberg Terminal.
LEARN MORE