World, Arab Powers Warn Israel-Palestinian Peace Chances Fading
by and
Paris meeting seeks incentives for return to negotiations

Arab participants revive 2002 offer to recognize Israel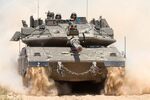 The chances of a two-state solution between Israel and the Palestinians are fading, and international partners must provide incentives to get them back to the negotiating table, world powers and Arab countries said at a Paris meeting.
The participants said they hoped to convene again by the end of the year at an international peace conference. Arab states used Friday's meeting to affirm that a 2002 offer to recognize Israel in exchange for it withdrawing from Palestinian lands still holds.
"The international community must not condemn itself to being simple observers expressing regret," French Foreign Minister Jean-Marc Ayrault said after the talks. "We must act urgently to revive the two-state solution, to bring it back before it's too late."
Israel, which wasn't invited along with the Palestinians to the 26-country session, said the French initiative would fail because it aimed to impose a settlement. France and the European Union warned that the regional militant threat highlighted by Islamic State's rise showed how extremists take advantage of political voids.
'Genuine Commitment'

The meeting, the first international peace accord effort in almost 10 years, included the U.S., Russia, China, major European countries and Japan, as well as Arab neighbors such as Egypt, Jordan and Saudi Arabia.
It urged both sides to show "a genuine commitment to the two-state solution in order to rebuild trust and create the conditions for fully ending the Israeli occupation that began in 1967." A communique blamed "continued acts of violence and ongoing settlement activity" for endangering a solution.
French officials, who have been pushing for this meeting for over a year, stressed that the goal wasn't to impose a solution but to help Israels and Palestinians return to direct talks.
"The Israelis and Palestinians alone have to make the courageous choice of peace -- we can't do it for them," President Francois Hollande said in opening comments. "Our initiative aims to give them guarantees that peace will be solid, lasting and under international supervision."
Ayrault said nations should start working by the end of June on measures to create the "framework and support" for direct Israeli-Palestinian negotiations. Earlier, Hollande said these include de-escalation measures, security arrangements, bilateral and regional cooperation, as well as identifying "the economic dividends of peace."
EU Offer
As Israel's largest trading partner and the Palestinians' biggest donor, the EU can offer "incentives" to encourage dialogue, the bloc's foreign policy chief, Federica Mogherini, said.
The last major conference on the Israeli-Palestinian peace process was hosted by U.S. President George W. Bush in 2007 in Annapolis, Maryland. The U.S. renewed its efforts to broker a deal in 2010 and again in 2013. But negotiations broke down after eight months, with the U.S. blaming an expansion of settlements by Israel.
Netanyahu Praise
Israel believes the conference will fail because it encourages the Palestinians to believe the world will enforce a solution, though France is "acting with goodwill," Eran Lerman, former deputy director of Israel's National Security Council, said Thursday. "Once again the Palestinians are latching onto the vain hope of an imposed solution," said Lerman, who's now at the Begin-Sadat Center for Strategic Studies at Bar-Ilan University.
Israeli Prime Minister Benjamin Netanyahu did provide one opening this week, offering rare praise for a 14-year-old Saudi peace offer, while saying it required changes.
"We believe, as does most of the world, that the Arab Peace Initiative is the best opportunity for resolving this long-standing dispute," Saudi Foreign Minister Adel al-Jubeir said. "We hope that wisdom will prevail in Israel and that the Israelis will accept this initiative."
Israel never accepted the Saudi plan, which required it to withdraw from most of the West Bank and other territory it captured almost half a century ago in return for normalizing ties with Arab nations. Al-Jubeir said the offer won't be watered down, and Egyptian Foreign Minister Sameh Shoukry said Arab countries still insist that East Jerusalem be the capital of any future Palestinian state.
The Paris talks provide a "flicker of hope," Palestine Liberation Organization Secretary-General Saeb Erekat wrote Friday in Israel's Haaretz newspaper. The Palestinians have been pushing for a multinational mediator for future talks to replace the U.S., which is seen by the Palestinians and Europeans as too close to Israel.
Before it's here, it's on the Bloomberg Terminal.
LEARN MORE