Redstone Doctor Says Mogul 'No Longer Trusts' Viacom CEO
By and
Billionaire tells psychiatrist CEO Dauman doing 'a bad job'

Redstone opposes planned sale of Paramount Pictures stake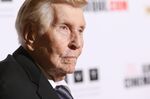 Viacom Inc. controlling shareholder Sumner Redstone had the legal mental capacity to remove Chief Executive Officer Philippe Dauman from the trust that will oversee the company, according to a psychiatrist who examined him last month.
Redstone, 93, told the psychiatrist that he wanted Dauman removed as trustee because "he's done a bad job" and that he opposes Dauman's decision to sell a stake in Viacom's Paramount Pictures division, according to a statement provided by a representative for Redstone.

Redstone's mental capacity is at the heart of what is now three lawsuits in two states, concerning his ability to make decisions about his estate and the future of Viacom and CBS Corp., two of the world's largest media companies. Dauman and Manuela Herzer, a former girlfriend of Redstone, allege the billionaire is being manipulated by his daughter Shari in a bid by her to control the family empire.
James Spar, a geriatric psychiatrist at the University of California Los Angeles, examined Redstone twice in May. The billionaire told him Viacom stock had declined significantly over the past year and that it had gone up since making his decision to remove Dauman and George Abrams, a Viacom director, from the family trust.
Dauman Response
Les Fagen, an attorney for Dauman and Abrams responding to the statement, said Redstone is heard "only through carefully crafted remarks distributed by his advisors."
"This evaluation was conducted by a paid medical consultant and does not answer the question of whether Sumner Redstone had sufficient capacity to make complex decisions," Fagen said in a statement. He called for a "complete and objective" examination of Redstone.
An earlier determination by Spar that Redstone retained the capacity to execute estate planning documents was cited by Redstone's lawyers as they argued against Herzer's unsuccessful lawsuit to be reinstated as the person designated to make his health-care decisions if he couldn't.
At a May 20 meeting, Spar found Redstone "well dressed and groomed, alert and in no distress, and quite cooperative with the examination," according to the statement.
Lack of Trust
"I asked Mr. Redstone why he was removing Mr. Dauman as trustee and director, and he said, 'He's done a bad job running Viacom.' I asked the same question about Mr. Abrams, and Mr. Redstone said, 'He's not listening to me."'
In the follow-up meeting on May 24, Redstone said several times that "he makes all the decisions about Viacom and CBS" and that "he no longer trusts Mr. Dauman or Mr. Abrams."
Redstone said he had told Dauman he disapproved of the executive's plan to sell a minority stake in Paramount Pictures, which the billionaire called "his baby." Viacom management ignored his wishes, he said.
A judge in Norfolk, Massachusetts is scheduled June 7 to consider Dauman's request to expedite a trial in his lawsuit challenging his removal from the trust.