Saudi Arabia Said to Ban Products Betting Against Riyal Peg
Matthew Martin, Stefania Bianchi and Archana Narayanan
Regulator said to halt some structured forward contracts

Ban follows one in January to stop options transactions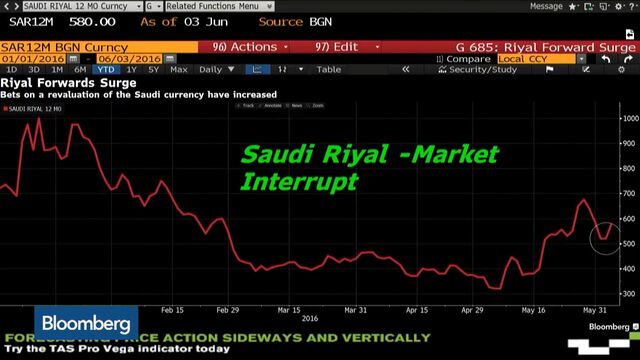 Saudi Arabia ordered banks in the kingdom to stop selling some products that allow speculators to bet against its currency peg just days after demanding information from lenders on the offerings, according to people with knowledge of the matter
The Saudi Arabia Monetary Agency sent a circular to banks this week saying that dollar-riyal forward structured contracts are banned with immediate effect, said the people, asking not to be identified because they are not authorized to comment publicly. Forward foreign-currency transactions backed by actual goods and services will still be allowed, the people said.
One-year forward contracts on the Saudi riyal quoted outside of the country jumped by the most since May 26 on Friday. The regulator, also known as SAMA, has asked lenders for details on derivative deals dating to January, saying they hadn't informed the central bank about some products. An e-mailed request for comment to the agency outside of normal office hours on Friday wasn't immediately returned.
Crack Down
Authorities are cracking down on currency traders as speculation mounts that the world's biggest oil exporter won't be able to maintain the riyal's peg to the dollar as revenue plunges. Hedge funds such as PointState Capital and Pershing Square Capital Management have wagered that the fixed rate will be dropped, even as the country maintains it has no plans to devalue the currency, and analysts, including Capital Economics, say such a move would be a last resort.
"The directive shows the continuing disconnect between the Saudi foreign-exchange policy and market expectations," Raza Agha, VTB Capital's chief economist for the Middle East and Africa, said by e-mail. "SAMA appears committed to the exchange-rate peg despite the cost to foreign-exchange reserves, large fiscal deficits and consensus forecasts that see only a very gradual rise in oil prices."

SAMA ordered banks to stop selling options contracts on riyal forwards at a meeting in Riyadh on Jan 18., people with knowledge of the matter said at the time.
Saudi Arabia is undergoing its biggest-ever economic shakeup, led by Deputy Crown Prince Mohammed bin Salman, as it prepares for the post-oil era following the plunge in crude prices that started in 2014. One of the government's biggest challenges will be navigating the worst economic slowdown since the global financial crisis as authorities cut spending to plug a budget deficit that reached about 15 percent of gross domestic product in 2015.
"The decline in sovereign assets, continued large deficits, spending pressures and a lack of clarity on the reform measures being promoted is driving weaker market sentiments, which is reflected in Saudi riyal forward markets," Agha said. One-year forwards, used by traders to speculate whether the kingdom may adjust its currency fix after three decades at 3.75 per dollar, jumped 110 points on Friday to 630.
PointState Capital's Zach Schreiber, who made $1 billion betting against oil two years ago, is wagering that weaker long-term crude prices and rising costs will cause the country to abandon the peg, he said last month. Bill Ackman, the billionaire founder of Pershing Square, wrote in his annual letter to investors in January that Saudi Arabia, along with China, was "inadvisably" spending billions of dollars to protect its currency.
Before it's here, it's on the Bloomberg Terminal.
LEARN MORE