Osborne Enlists Help From Dimon as Brexit Camp Gains Ground
by and
'Remain' camp keeps focus on economic dangers as polls tighten

Chancellor warns up to 400,000 service jobs could be lost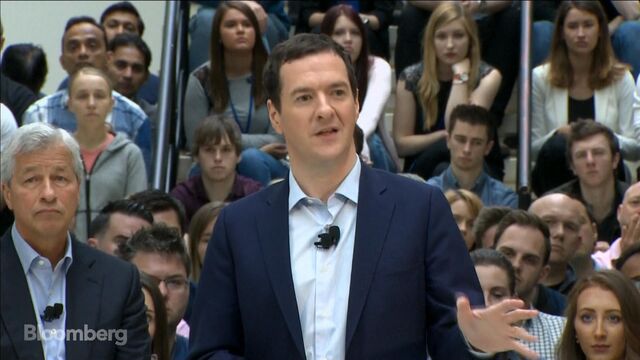 Chancellor of the Exchequer George Osborne roped in JPMorgan Chase & Co. boss Jamie Dimon to back up his warnings about the costs of leaving the European Union as polls suggested the U.K. government is struggling to get its message across.
Osborne told workers at a JPMorgan office in Bournemouth on the south coast of England that a so-called Brexit could force service companies, Britain's biggest employers, to cut as many as 400,000 staff over the next two years. Chief Executive Officer Dimon told his own staff as many as a quarter of the bank's 16,000 employees in the country would be at risk as a result of the problems of operating businesses outside the EU.
"It is deceiving people to pretend we can leave the EU and jobs wouldn't be at risk," Osborne said. "This is about who we are as a country; it's not just about our economy. We are stronger because we are part of a club of nations whose voices are amplified on the world stage."
Dimon, who flew into Britain from New York and has publicly criticized so-called banker bashing after the financial crisis in the past, may be viewed as an odd choice of ally in the chancellor's push to convince the British public to stay in the bloc. JPMorgan, as well as other international lenders with U.K. operations like Goldman Sachs Group Inc., have used previous losses and other measures to pay little or no tax in recent years, despite making billions of pounds of profits from their British units.
"The British people will not be bullied into voting to hand more money and more power to Brussels by someone whose bonus would make even some eurocrat's eyes water and whose bank helped crash the economy," Steve Baker, a lawmaker from Osborne's Conservative Party, said in an e-mailed statement. Dimon earned $27 million last year.
With just under three weeks to go until the June 23 vote, and polls suggesting support is starting to veer toward Brexit, the "Remain" campaign is seeking all the allies it can get. Prime Minister David Cameron told the audience at a Sky News television event late Thursday that he'd been "making some new friends" including former union chief Brendan Barber, and going shopping with former Labour minister Harriet Harman.
The pound is heading for its biggest weekly drop against the dollar since March after some polls showed voters favored abandoning the EU. Sterling is the worst performer versus the dollar after the Mexican peso among 16 major currencies this year, according to Bloomberg's World Currency Ranker.
Not Just London
The choice of setting for the chancellor's latest intervention in the campaign is an attempt to show the benefits of the financial-services industry extend far beyond the City of London. Osborne warned that most service industries rely on cross-border trade and supply chains, making them particularly vulnerable to an exit from the EU. The services industry accounts for almost half of Britain's exports to the EU and 25 million jobs.
The intervention from Dimon follows a donation of 500,000 pounds ($720,000) by his firm to the "Remain" campaign earlier this year and marks one of the starkest warnings from a business leader in the debate so far, with a direct caution on job losses delivered to a room full of his own employees.
"It's a terrible deal for the British economy and jobs," Dimon told staff and reporters. "I don't want you to worry about it but when you vote you should think about something like that. Please think really carefully about this decision."
The lender employs 4,000 staff in Bournemouth to handle trading settlement and processing operations, with the rest of the bank's 16,000 U.K. employees located in London, Edinburgh, Glasgow, Basingstoke and Swindon.
With the referendum splitting the ruling Conservative Party in half, campaigning is getting increasingly acrimonious, and both camps have been accused of smears and overstating the facts. While the "Remain" camp has relied on reports from bodies including the Treasury, the Bank of England and the International Monetary Fund portraying the economic consequences of an exit, the "Leave" campaign has switched its focus to the government's failure to curb immigration.
Brexit Gains
The Brexiteers' change of tack may be starting to pay off. Two ICM polls, carried out both online and by telephone, put "Leave" ahead this week. Meanwhile, in a sign that the government's economic message hasn't cut through, an Ipsos Mori poll on voter attitudes found 58 percent of respondents saying they don't think leaving the EU would affect their own standard of living.
Cameron was repeatedly criticized by the audience at Thursday night's question-and-answer session for his government's "scaremongering" campaign.
A survey of academics, pollsters and journalists by the Political Studies Association found that while 87 percent thought the result of the referendum would be a "Remain" vote, their average rating of the chance of a Brexit was 38 percent, much higher than betting and prediction markets. The Number Cruncher Politics website is calculating a Brexit probability of 21.7 percent.
Before it's here, it's on the Bloomberg Terminal.
LEARN MORE