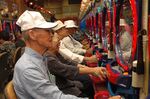 It's a well-known fact that the Japanese live a long time, and that the population is rapidly aging while the birthrate declines.
This is likely to become increasingly important to politics and economics, with the average age of voters now between 50 and 54, and much of the nation's savings held by people 65 and older.
One lawmaker quipped last year that his quest to cut benefits for the elderly was "almost suicidal." The next election in Japan will happen on July 10, for the upper house of the national parliament.

There are 62,000 people in Japan who are 100 years or older, and a larger proportion of the population is over 65 than any in other nation.
Japan's households have 1,741 trillion yen ($16 trillion) in assets, with 52 percent of this is in currency and deposits. The elderly have the most savings and very little debt. Still, more than 10 percent live in relative poverty. 

While they may be likely to vote for Prime Minister Shinzo Abe and his ruling Liberal Democratic Party, they're not heeding calls to spend to help revive the struggling economy.
Many of them have more assets then the young, but with interest rates near zero, the elderly aren't getting much return on their savings, and that's making them less inclined to spend.
Before it's here, it's on the Bloomberg Terminal.
LEARN MORE