Glassdoor Raises New Funding at a Higher Valuation While Public Markets Struggle
Disconnect between the public and private markets or simply a different business model?
by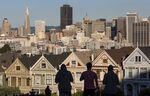 While LinkedIn Corp. struggles in the public market, one of its private competitors just raised new funding at a higher valuation.
Glassdoor Inc. has tapped investors for $40 million in a financing round led by T. Rowe Price Associates, Inc. The new money brings the employment website's total funding to about $200 million since being founded back in 2007, and set a "slight" increase on the circa $1 billion valuation achieved in the last fundraising round, CEO Robert Hohman said in an interview.
The fundraising comes at a tough time for Silicon Valley with down rounds — or financings at lower valuations — hitting tech start-ups in the private markets and initial public offerings slowing in the public markets thanks to heightened volatility and nervousness about valuations and revenue growth. Shares of Glassdoor's publicly-listed competitor LinkedIn have fallen 40 percent since the start of 2016 thanks largely to a lower earnings forecast.
"There is a macro sentiment that is valuing responsible growth rather than growth at any cost, with a premium being paid for cash flow with more modest growth," Hohman said. "We're still growing quickly, but also not burning through so much cash that we needed to raise. This just gives us flexibility."
Like LinkedIn, the majority of Glassdoor's revenue comes from premium services. For Glassdoor that includes recruiting and other services to companies, including job advertising and enhanced profiles, among other products.
Existing investors Battery Ventures LP, Google Capital, Sutter Hill Ventures LP, and Tiger Global Management LLC also participated in the financing round.
Henry Ellenbogen, portfolio manager of T. Rowe Price New Horizons Fund, Inc., said that the decline in LinkedIn's stock did not go unnoticed when his firm decided to make an investment in Glassdoor.
"Certainly we're aware of where the market is, not only in valuing competitors but also early stage growth companies," he said in an interview "We're looking at what return we can make over an extended period of time. The external marketplace is creating opportunities in the sense that the market is a little frozen and other private investors are retreating."
Of course, there are differences in their business models that could also be part of the explanation for the diverging valuation paths. "People go to Glassdoor to learn about companies, people go to LinkedIn to find people," said Josh Bersin, a corporate talent analyst at Deloitte. "They really have very different business models."
Jennifer Newbill, global program manager of talent acquisition at Dell Inc., echoed Bersin's sentiment in the differences between the two firms. "I leverage Glassdoor mostly for [employee] sentiment," she said, adding that while Dell posts jobs on Glassdoor, LinkedIn is still a larger source of highering. "I think that [Glassdoor] is very much a tool for candidates while LinkedIn is more a tool for recruiters."
Glassdoor is part of the staying-private-for-longer camp in Silicon Valley, but has been talking about a potential IPO for years. Hohman said he's in no rush to go public, although he still plans to eventually list shares on an exchange.
"It's a matter of when not if for going public, and we'll go when we're ready," he said, adding that the current lackluster market environment doesn't deter him from that possibility. "I think it's actually way better to go out in a market that is less heated, rather than a market that is over heated and sets you up for a valuation that is hard to support."
Before it's here, it's on the Bloomberg Terminal.
LEARN MORE